February 2017 update: our friends at websitebuilder.org shared over 100 facts on Instagram you should know (link near the end of the post), and we added some small brands as examples of accounts that are doing well on Instagram.
As we have mentioned before, SMBs can often feel the pressure to appear on every single social network out there. Chances are, you've heard of Instagram and suspect that if you aren't in the business of producing some highly visual or fun product, then it isn't for you. While it is true that certain brands and products will have an 'easier' time with Instagram, it doesn't mean you can't take advantage of it.
How do I know if Instagram is for me? In case you aren't familiar with it, Instagram is a visual social network, where users share photos or videos. If you have an online shop or blog, that will give you plenty of content which you can publish right off the bat. For instance, if you have an apparel store, are a photographer, or produce anything, it could be a good idea, especially to connect with younger audiences. However don't think that just because you don't sell a visual product, you can't be on Instagram. The key is to connect with your potential buyers, be creative and stand out.
Still aren't convinced? Check out this great article on why we should embrace Instagram.
If you want to give it a try inmediately, here's how to get started:
Setting Up an Account:
First you need to Download the Instagram app in the App Store on an iOS device (iPhone, iPad), or in Google Play for an Android device.
After successful installation, click on register.
Fill in your account details. Your Username will be visible and is how people will search for you. If possible, use the same handle as you use for your Twitter account.
Instagram will give you a list of suggested people to follow. You can decide if you want to follow them or not. You can also choose to add contacts for your device or Facebook; this is optional.
Go to Settings, and Edit Your Profile. Here you can fill in additional details to finish your profile. Enter your business name, your URL, and a short bio with keywords.
Add a profile picture. Be sure to hit Save when you are done.
Enable notifications so you can see when people share or comment on your photos.
Link Instagram to your Facebook profile, if you have one.
Getting Started:
Open the Instagram app to start up your camera or choose a photo from the gallery.
Use Instagram's built-in filters. You can brighten colors, change pictures to sepia, rotate, crops, etc.
Once you're happy with your photo, move onto the next step – sharing photos.
Add a caption to your photo, use hashtags sparingly (only up to 30 are allowed) and upload it.
Socialising your Profile:
Add an Instagram badge to your site. Choose the badge you'd like, and the site will generate the code you need to insert in your site.
Optimising your Presence:
Include your brand in every picture you upload
Geotag your posts. Target your local consumers by using Photo Map to tag where you are.
Hashtag hashtag hashtag!!! Do it right and the right people will find you.
Being Consistent:
Ask questions in your captions to increase the possibilities for engagement
Showcase a 'behind the scenes' look at your business
Check out your Instagram account metrics
Think in terms of story arcs and progressions through time.
Experiment with video clips
Use your Instagram feed to show photos you haven't shared on your Facebook, Twitter or blog (and vice versa).
Pay attention to the times during the day when your images receive the most likes and comments.  Use the trends you've identified to be sure you're posting at peak times when you'll be most likely to reach members of your audience.
Find peers and competitors to follow
You have relationships with other businesses. If they're on Instagram too, partner up, and get them to post your products on their Instagram feed.
Use photo caption posts.  Get engagement on your Instagram posts through photo caption questions. Take an image of your products, or something related to your brand lifestyle. Ask your followers to have fun by captioning it.
Participate in commonly used hashtags, like #throwbackthursday, so users who may not be familiar with your blog can find you.
Need some inspiration? Some brands doing instagram right are: Oracle, Intuit, Smarp, yellowstone, AS Paper Designs, Jenna Rae Cakes, Sweet Sister Chic Sister and Spotify.
While you're learning about Instagram, don't forget to check out these 139 facts about Instagram you should be aware of in 2017.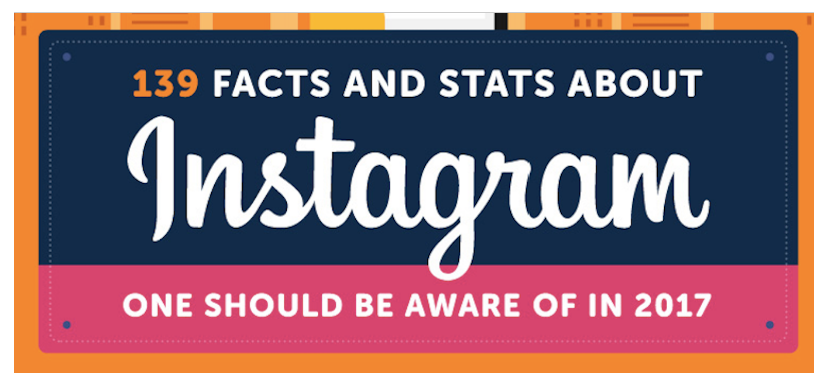 Remember, have fun while you're at it! Instagram should never feel like a job 😉