At marketgoo we are hiring a product designer to help us translate our vision and technology into a user-friendly experience for our WordPress customers.
This means closing the UX gap from ideation to production. You'll be working closely with product management and collaborating with other designers, product managers, and engineers.
We are looking for candidates with:
An eye for understanding problems.
A solution and innovation-oriented approach.
A persevering attitude.
An autonomous mindset.
Care for design and details.
Ability to gather feedback through user research.
And a deep knowledge of a full product design cycle.
The role includes turning complex problems into simple and engaging user experiences and to provide effective tools on top of a robust platform and a WordPress product. We are looking for an experienced candidate who's faced similar challenges.
Who are we?
marketgoo is a distributed company with a unique Culture that creates impactful digital products. This is our Why. 
Currently, the products we're building are SEO solutions, which are then resold by Web Hosting and Domain Providers, primarily in Anglo markets.
Our Products
We build products that simplify SEO, serving hundreds of thousands of end-users through our global partners. 
Our Partners trust our products to guide their customers to online success. These customers are our end-users, and therefore, user experience is key to everything that the Product team does at marketgoo.  
We are a small team, where you can leave your mark and learn from everyone. We have a different culture. We love remote and asynchronous work, flexibility and autonomy.
We are here for the long term and we are proudly creating a place to be happy at work.
We aim to build something great, we don't have external funding and we are profitable so we can take our time to do everything with the utmost care.
Our WordPress moment
In February 2021 we are launching our own WordPress SEO product. The WordPress SEO competitive landscape is already crowded but we believe we are entering the space with a unique angle, re-segmenting the market with an easy and guided solution for novice users. WordPress as a CMS is having consistent growth and both 2020 and COVID have only pushed it further with more people starting their own online business.
As next year is crucial for our WordPress bet, being successful will require traction, learning, experimentation and validation. You'll be joining a pre-product opportunity so you must be prepared to wear the explorer hat. The main goal will be to take the solution into product-market fit.
About the job
As a key part of the team, you'll work directly with the product manager of the WordPress product to understand the goals and problems of our customers, plan experiments and define the scope. We expect you to lead the design phase and user testing. We will empower you with usability and satisfaction oriented OKRs.
Finally, you'll support the development team building the solution and will go back with the product team to measure results.
Some examples of projects you might work on:
Translate the WordPress SEO product vision into a user friendly experience. Design the final UX and UI.
Help product management to increase retention by revamping the onboarding flow.
Gather user insights to lead product improvements.
Audit the current product to propose a new design vision that increases usage.
You'll be working hand by hand with David Roch and Antonio Rull along with the rest of the team.
About you
Professional experience in product design (3-5 years). This means you are comfortable understanding problems in-depth, not just designing a visually first solution.
A selection of your work. It can be a portfolio, case studies, medium articles, etc.
We are looking for Managers of One. We need you to be autonomous, executive and get things done without continuous direction.
We need a great communicator so remote cooperation works smoothly. We want you to express your ideas with assertiveness and confidence.
English proficiency is a must. You must be comfortable speaking with international customers and English speaking team members.
Experience working remotely.
Experience in SaaS industry.
SEO knowledge is important.
WordPress knowledge is a plus.
Experience in SaaS industry is a plus.
Culture fit.
Requirements
Excel in UI/UX design. Knowledge of usability, accesibility and best practices in human interfaces.
Experience working with design systems (Take a look at our own system Ola).
Proven capacity to reduce complex problems to simple and easy solutions. We don't want a screen maker, we want a problem solver. Someone that can think and use a pen and paper (even digital) before the computer mouse.
Excellent design taste. We love beautiful designs and need to step up our design.
Empathy with the user who will use our product.
Experience with Sketch or Figma (we use Sketch, but both are similar), working with Symbols/Components, color palettes, etc.
Knowledge of web technologies. At least CSS and HTML. Ability to comunicate with engineers to implement the designs.
Own design problems from start to finish.  Craft efficient user flows, and high-fidelity interaction designs.
Pay and benefits
We are offering a range of 30-40K, depending on your experience. Our aspiration is to grow the business together and reach 20+% above market salary for any position.
Also, after two years in the team you get to participate in our profit sharing program included on top of your salary.
2k for a computer of your choice, and an ongoing budget for equipment like screens, keyboards, etc…
Remote and asynchronous workflow.
Team assistant. We have a person taking care of the team. Do you need to setup an appointment, buy your children's books for school or make a restaurant reservation? Just ask our assistant for it.
We believe in wisdom growth. We will also support you with both professional and personal growth and have resources for helping you to keep learning and designing your lifestyle with a 1k annual budget.
We have a strong relationship, we are here for the long term. Our business is sustainable and independent from external funding.
We like to promote personal care and wellbeing. We have a monthly stipend for fitness and sports activities of 80€/month.
And this is just the beginning. More stuff is on the go and we are also happy to hear your ideas!
Want to know more? Take a look at our Culture Handbook.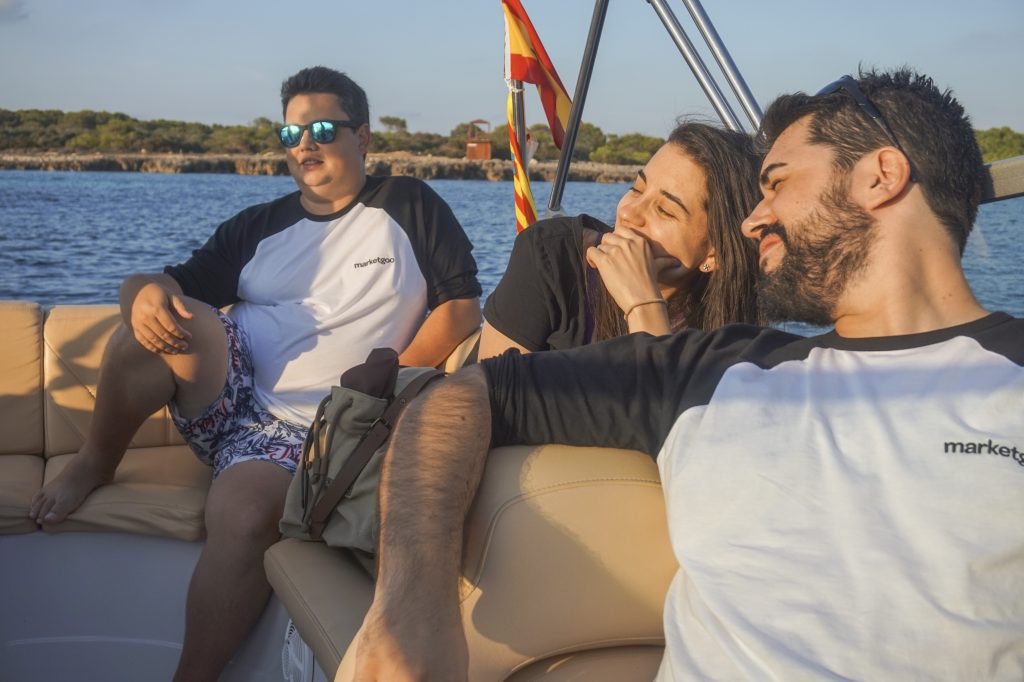 How to apply
If you see yourself working with us, please send in your application. Please don't be intimidated if you don't fulfill all requirements completely.
Introduce yourself with a cover letter, we'd like to know more about you, what you like, how you would approach some of the example projects we've mentioned and what your experience has been dealing with similar challenges.
We value your communication skills so take your time, there is no rush as we are not considering just a CV on its own. On the other hand, please keep your cover letter easy to digest. Around 800 words is enough.
We are really looking forward to hearing from you!
What You Can Expect in the Hiring Process
Step 1: Getting to know you. Receiving your cover letter and CV.
Step 2: Informal conversation. Having an informal conversation about your background, experience and achievements.
Step 3: Technical review and brief exercise. Reviewing your future role to match your technical skills and mindset.
Step 4: Culture fit interview. Meeting teammates and going over about what it's like to be a member of the team. Understand your vision, we are here for the long term.