We are introducing a brand new version of marketgoo. Far from only new features or functionality, this new version brings a significant interface update aiming to improve greatly the use of marketgoo and provide a unified experience across our whole lineup of SEO products. We are making this change now in order to set the base for future rollouts that will follow our vision of helping Small and Medium Businesses to increase their website's traffic.
Want to know more? Keep reading.
What's new:
Design

: When we introduced marketgoo's v3 our main goal was to fix and reorder the structure of the app, working hard on the dashboard functionality and how to simplify the use of it. However, we needed to continue working to provide a consistent UI. Now we have performed a complete restyle that follows a system for a unified journey, that will allow us to keep evolving but this time from a solid starting point.

Features

: Feature wise we have been less ambitious on adding everything for the first release and we have removed some unnecessary noise. As was stated previously, launching the new interface puts us in a position to start rolling out and testing new functionality in the following weeks to pursue our product vision. But hey, that doesn't mean there won't be any improvements so far. The new SEO Audit tasks report display or the smart suggestions for keywords that are already positioning the site are some cool ones!

Technology

: marketgoo's front end currently runs mostly on React and Redux, a change that our Engineering team was looking forward to push in order to have quicker, more flexible and scalable tech for the future. From the Product's perspective, these changes are helping us to both serve a better experience to the end customer but also we see ourselves more efficient in the development of the platform.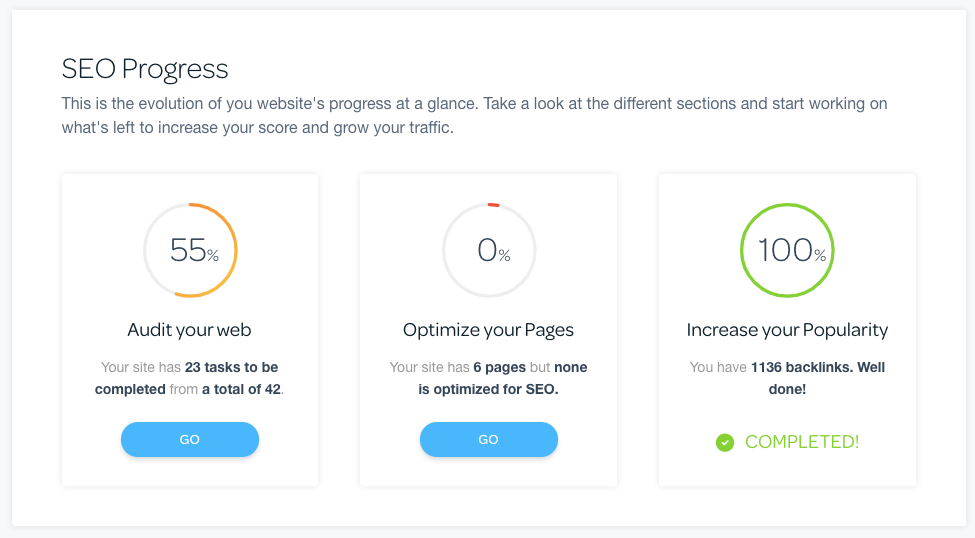 Why:
Honestly speaking from the Product side, this launch is a key milestone for marketgoo. We've been in the market for several years now as a bootstrapped SaaS company and priorities are hard to deal with. In the past we have invested so much in serving the market properly, stabilizing the platform, fixing some blind spots in the product and building APIs to leverage on our core functionality. We have reached profitability, stable growth and superb partnerships so around 2018 we decided to focus on the restyle project as a way to unlock promising opportunities in the near future.
We are here for the long term to fulfill our vision which is, again, to help SMBs increase their website's traffic. And sincerely, we still have plenty of stuff to do but everyday we see how we are getting closer, making it easier to our customers, building the company where we want to work and enjoying the process.
Easy SEO is a huge challenge but the path is clear for us. We are making a big step leaving behind the times of being just a website SEO auditing tool to be the SEO tool that will really will help to improve online businesses leveraging on content and popularity.
---
We feel very excited to unlock this new version and I am personally really proud of this team for making it a reality 🙂
Let us know what do you think!