marketgoo at WorldHostingDays 2016 Global
It's been a few days after we returned from attending the WorldHostingDays 2016 Global event held in Rust, Germany. I still remember the early days of this event back in 2006 in Cologne. A lot has changed but the original idea and good execution remains a part of the WHD brand. It's a great showcase of people and industry gathering. More than 6000 people visited the event.
A picturesque location for WHD
I think it's a clever idea to place this conference in an amusement park in the middle of nowhere in the south of Germany. This way they manage to keep the people in the conference location and surroundings. Although I must say it is really exhausting for exhibitors because you have to manage to be at the booth early in the morning and then take late Colosseo nights. (If you ever attended the Colosseo and/or the parties, you know what I mean).
In case you don't know what I mean:
Hosting industry feeling, value added services are in growing importance
WHD is a great event to have a sense of the general feeling in the hosting industry. Besides other vendors, and IT companies, most of the attendees are professionals working in the hosting industry. I perceived a sense of consolidation in the industry but also a lot of smaller and medium hosters in a 'dynamic mood'. We are a "Value Added Service Vendor" in this industry. Which means we help hosting companies offer complimentary services. It's been 3 years now since we began exhibiting with marketgoo and the main feeling we took from the event is that hosting companies are much more aware and ready to take a bet on new services, more so than at anytime in the past.
On the other hand, the Web Marketing Presence category is becoming more important to these hosters: several companies were ready to help hosters by providing several solutions; Web site building tools with companies like Websplanet, Weebly, ePages, cM4all, Basekit, etc. and Web Marketing tools represented by marketgoo and couple of our competitors.
I felt much more interest and knowledge in the people I spoke to. I love to speak about acquisition strategies and was glad to see so much interest in the topic. Some time time ago we had to evangelize our solution and get our name out there. This time our booth visitors were way much prepared for the pitch and had quite insightful remarks and questions.
marketgoo presence at WHD
I am glad we had a great presence at the show. Four of us attended the event, we had a busy booth and lots of great meetings and conversations. One great part of our presence in this type of events is to secure time with our partners from 123Reg, Endurance, One.com, Papaki and others.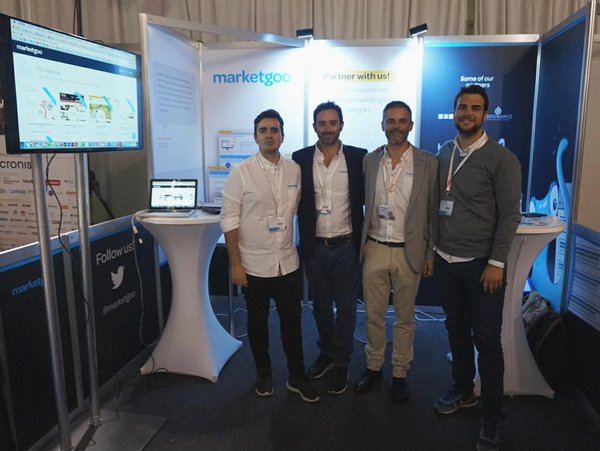 I also had a great time in the Breakout Session I conducted. In the middle of very technical, hardware based conversations I wanted to bring attention to psychological techniques that help a Hosting company sell more from their website. I will brief my thoughts in an upcoming post.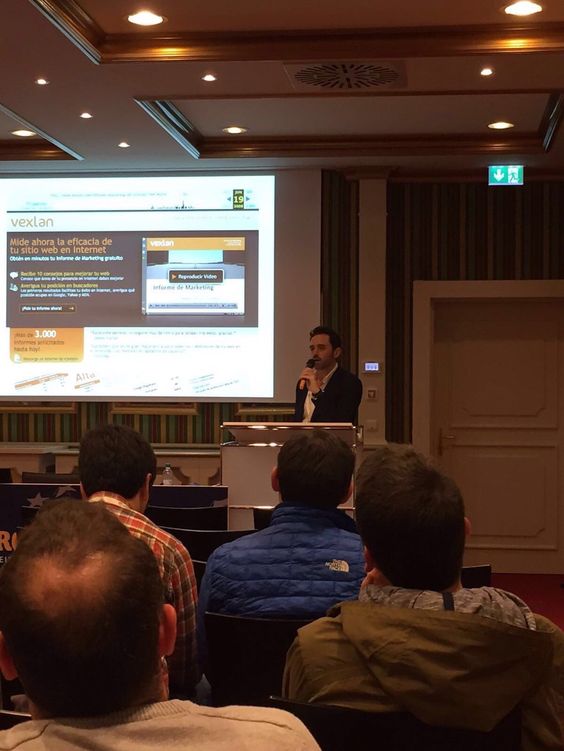 See you in Rust, next year
Hope to see you in Rust next year and if you visited our booth and want to follow up on any topic, feel free to connect with me.
P.S. During the event we conducted a quick Twitter survey to have people answer if they knew which was the top web app demanded by SMBs. A majority of those who responded thought it was E-Commerce, when in fact it is SEO apps, with Security apps in 2nd place*! It's interesting to see that a term like e-commerce which might be more 'top-of-mind' because of the media coverage it gets, is actually not the feature most prioritized by small businesses. This is interesting for Hosting companies to note 😉
*Source: Odin's 2015 SMB Cloud Insights
https://twitter.com/marketgoo/status/709776710628216832
More of our pics from the event here:
Sigue el tablero Goo Life de marketgoo en Pinterest.
Thanks to WHD for their photo gallery of the event.