The panel is formed by more than 4.000 SMBs worldwide that are surveyed in order to understand cloud usage and trends. So many interesting takeaways from the latest US report.
Odin insights does a great service to the SMB and hosting provider industry by running a series of global insights and research.
Trends
marketgoo operates in the Web Presence category. Due to the relatively low price of basic web hosting, 84% of SMBs currently use a third-party hoster. This has simultaneously encouraged SMBs to be extremely price-sensitive when choosing their hoster (Key factors in choosing a web hoster are Price (62% ) and Customer Experience (32%).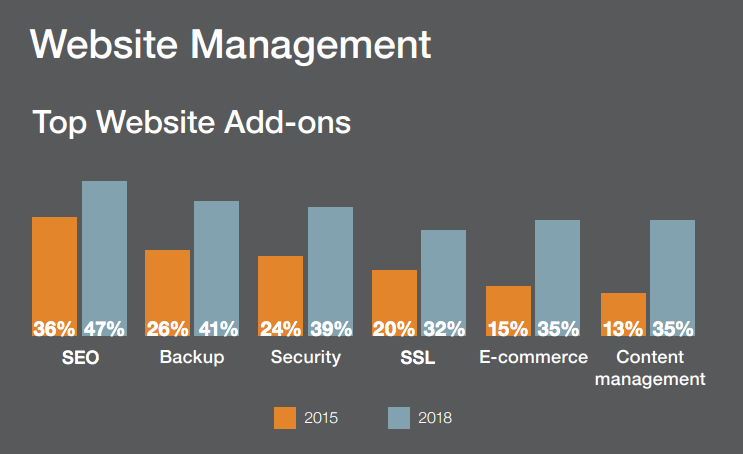 Because of this highly competitive market, service providers can increase their margins and incremental value by offering site building tools and website add-ons. For example, SEO, backup, and security are currently the most popular website add-ons and will continue to be popular through 2018.
Odin research shows that web hosters are uniquely positioned to sell these additional tools and services, with 61% of such sales made through the web hoster.
The purchase location for business applications is not a high priority for SMBs. Other considerations, such as price and features, are more important which indicates that service providers can provide a tangible advantage by offering bundles. Hosting companies keep being very well positioned to offer this services.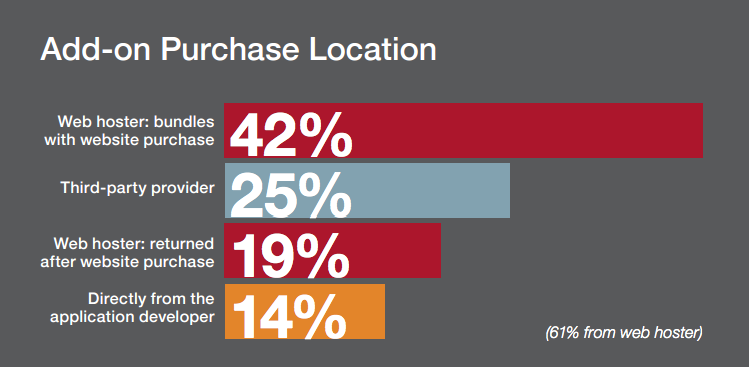 Opinion
Projections are always an exercise in magic. And only time tells the truth. Being a leading company in this space and having the opportunity to work with great partners, we see that in order to take the most out of this opportunity hosting companies should keep evolving towards SMB providers with a more solution-oriented perspective instead of trying to keep their product-oriented marketing activities.
Good times ahead!