If you freelance or are a small business owner/employee, you know that often search engine optimisation activities are relegated to the back burner because:
It seems best left to the experts: "…at some point I will make room in the budget for an SEO specialist"
It's never as urgent or important as other tasks you have: "… I should do these other, more pressing things, because not doing them will have a real, immediate impact on my business."
You wear many/all the hats in your business, and, for being a single task, it sure is time consuming and overwhelming.
These barriers boil down to lack of time, and lack of expertise. Because the very real consequences of not dedicating resources to SEO aren't immediately apparent (like that fire you have to put out ASAP), it never really seems urgent, just something you should do, eventually.
So the question becomes, how do you incorporate SEO tasks into your daily routine?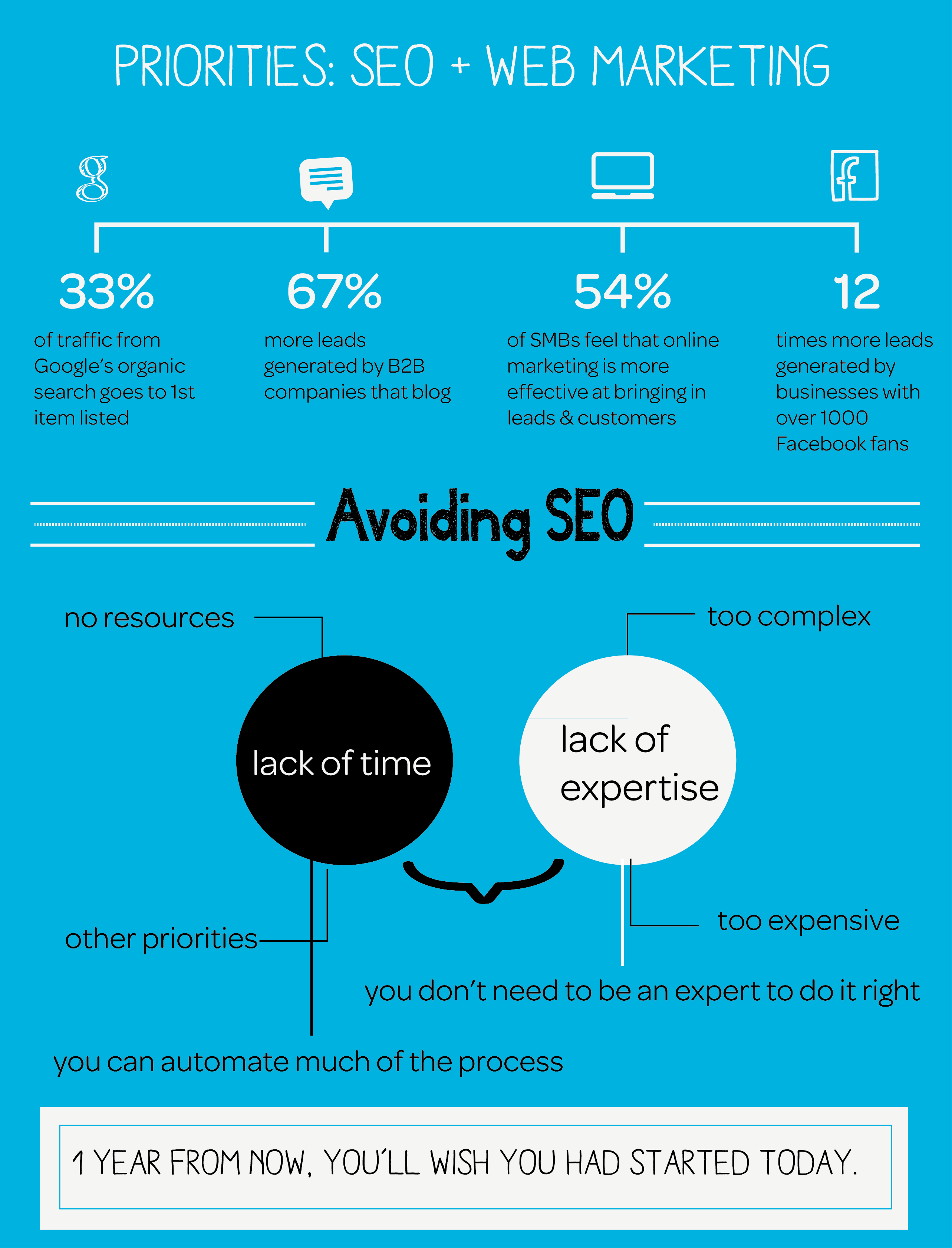 The first thing you must determine is if you should invest in a SEO specialist or agency.
Remember that the best thing you can do for your site is create good, relevant content that is of value to your visitors. Usually, it'll be you or someone in-house who truly understands what will be most useful to your target audience. If you outsource it, it loses some of that insight and personal touch. We suggest that even if you determine that you have the resources and need for an agency or specialist, you should make sure you have the basics in place. Additionally, you should still educate yourself on SEO- it's not actually that complicated, just time consuming! But if you understand what it's about, you will be empowered to hire the right people to do it for you. Here is a good list of questions to ask a potential hire.
So, if you're sticking around till the end of the post, you've decided that a specialist or agency is not your best bet, and you want to approach SEO in-house, in a practical, time-efficient way.
Before you start, you have to repeat, and truly believe the following:  First, you are optimising your site and content for people, not for Google, or Bing or Yahoo etc etc. Second, don't get obsessed with rankings! One of the reasons SEO is frustrating and hard to keep up, is that it provides very few 'quick wins'. You're not getting much immediate satisfaction or results. This doesn't mean it isn't working. Content and SEO is a long term thing.
There is no way you can avoid investing some time up-front in research. The good news is you'll only have to do the bulk of this research once.  It's critical you get an overview of what it's all about.
Get through this reading (super interesting, and painless) list:

Moz's Guide. It's been read over 1 million times for a reason
See what Google has to say

Find tools to help automate the process
All of these offer a free or trial version.
Mix these tools: Have your site analysed by all of these tools (or whichever ones you decide to pick) and you will have a 360° view of where your site stands.
Run a competitor's site on these tools to get an idea of where they stand.
At marketgoo, we are working on a new version to be released in a few months, and one of its aims is to be a tool which offers this full view of your site, so you don't have to mix and match tools.
Go back to these tools at least twice a week
You will get a list of tasks from most of these sites
It's important to be consistent, first to get acquainted with how these tools work, and second, start forming a habit of incorporating SEO tasks into your daily routine.
Implement their recommendations!

There are many tasks you can do yourself, and some which you will have to ask your webmaster to do.  The first time you get your site diagnosis, there will probably be a huge backlog of things to do. A lot of these are one time things, so get them out of the way ASAP.
Leverage social: we mentioned how it is hard to come by quick wins, but with social you have an opportunity to see real time changes.
Leverage Google Analytics (if you don't have it on your site or aren't sure what it's about, here is a good place to start). Google Analytics is extremely powerful and you don't have to be an expert to get useful information. If you generate these reports, you will get a good picture: Organic traffic over time, Demographics, and How your users move through your page.

Once you get the hang of the process in a couple of weeks, cut out some of the tools which have been least useful or most confusing for you and try to invest fully in one or two.
Experiment when it comes to content and social

The only way you'll know what works is to experiment: with headlines, with blog posts, hashtags, images, promoted content. Keep tabs on what channels and types of content are giving you traffic.

Make use of customer service

Whatever tools you choose to stick with, remember they have very knowledgeable staff and I can assure you they're happy to answer any and all of your questions and prove their worth!

Slow and steady doesn't do it, fast and steady does it.

Although SEO is a slow process and results won't be immediate, you have to react quickly to errors, traffic hikes and dips and to the recommendations you receive from your tools.

Stay organised

Especially at the beginning, when you will have a lot of work. It will even out over time, don't worry!
Do a 1-3-5 plan for the week regarding SEO tasks until you get through all your major tasks, then you can make a bi-monthly 1-3-5 plan when you're maintaining. A 1-3-5 plan means that you will do 1 big task (or the nastiest!), 3 medium tasks and 5 small ones.
And there you have it. You'll have to dedicate some time up front, but then you'll have the satisfaction of things falling into place, and forming a habit of completing SEO tasks.