As a small business, you might be overwhelmed with all these channels you're "supposed" to be on. You're getting advice and tips from everyone: must be on this one, you have to be on that other one, etc… If you have very limited time and resources, you will have to make choices about which channels to take on first, and if you should be on some at all. With that in mind, let's talk about Pinterest.
In this post, we'll cover:
What Pinterest is (and what it isn't)
Pinterest isn't Instagram and it's definitely not Facebook, it's where people go to discover and curate ideas. What you do on Facebook and Instagram isn't necessarily going to work on this platform.
There are about 200 million users that perform over a million searches monthly. Half of all millennials are on this platform. Pinterest often acts as a wishlist or shopping cart for users, and users often have a high intent to purchase compared to other platforms. Take these examples:
Food: 43% of millennial Pinners end up spending more than other millennials because Pinterest helps them easily find ways to use new ingredients.
Home decor: 50% of millennial Pinners plan to spring a little extra on home items, vs. 44% of non-Pinners.
Style: 52% of millennial Pinners plan to spend more on style, vs. 41% of non-Pinners.
Should I be on Pinterest?
To determine whether it's a channel you should get on, consider the nature of your business and industry, and how likely it is that you will be able to produce quality content and images, and dedicate time to curating others' content for your boards.
Additionally, while Pinterest may give you more traffic, you need to grow intentionally. There is no use in getting way more visitors to your site if they aren't doing what you intend your site visitors to do (buy something, sign up for a mailing list or course, etc).
So, set up goals for your Pinterest presence. The chief objectives will usually be to drive sales, and boost brand visibility. Is Pinterest a site that can help your business grow? Always keep your objectives in mind, when building, optimizing and maintaining your profile.
Examples of Sites doing well on Pinterest
A good example of an business that has done well on Pinterest is Constant Contact. Their product is software, but their Pinterest has boards for Small Business Quotes, Marketing Tips, Humour, and they've gotten their users to generate pins for them. So having a non-visual product is not an excuse!
For bloggers, the beauty blog Musing of a Muse has boards on Pinterest that are directly related to the content she publishes in each post and makeup review she does. Another good pinner in this niche is skincare expert Caroline Hirons. See how she has boards that are more about her as a person (she has a personal brand), as well as board related to her area of expertise, including cheatsheets (which are always attractive and very pinnable).
For more inspiration, we have a post dedicated to showcasing examples of great business pinterest profiles.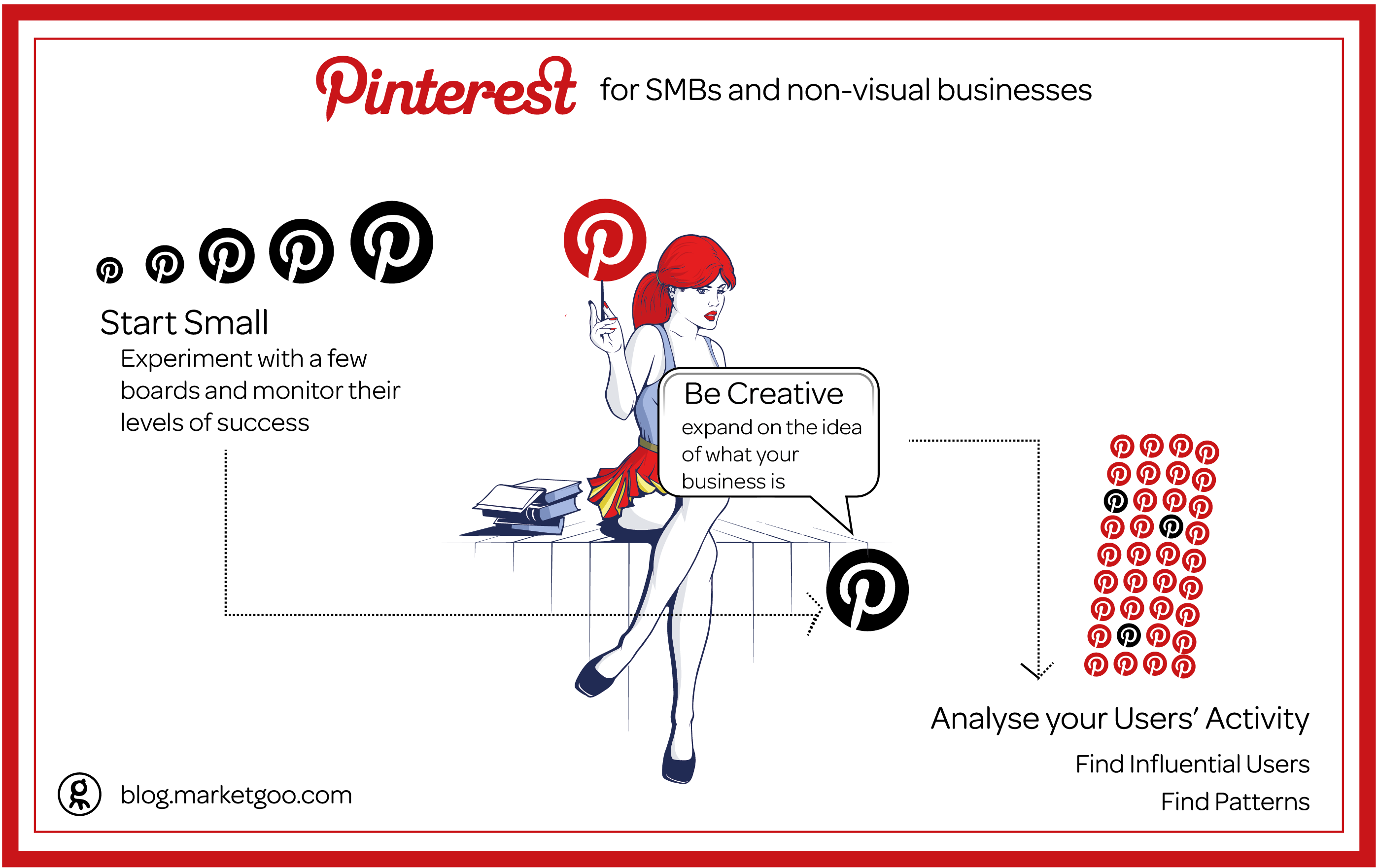 How to get Started with Pinterest for Business
Setting Up an Account: Setting up your Pinterest account is easy!  Go to the Pinterest Business Section and click the join as a business button. You will then fill out the details about your business. If you already made a Pinterest account for your business, but it was set up as a personal account, you can convert it to a business account. Once you've set up your account, add some boards to it. This is the way you'll organize all of the photos you pin or re-pin.
Getting Started: Anything you pin to a board should relate directly to that board. This will also increase the likelihood of people following them. Create a title for the board including keywords, and always add a description. The names of your boards should be 20 characters or less.
To get started, you can follow a recipe used by many brands that are starting out. Create 3 boards: Products, Tips, and a third 'random' or 'fun' one. For instance, if you have a paint business, 1 board would be a Product Catalogue, featuring all your different paint types. If you don't have a product catalogue per se, then think of this first board as your 'promotional' one; the one where you can self-promote. The 2nd board would be Tips on DIY paint jobs, color combinations, etc… and the 3rd might be about life at your offices, your employees, team members, things you like, events you've participated in, etc.,
Make sure your profile is set to public. In "Search Privacy", you can hide your Pinterest profile from search engines like Google. Make sure your settings indicate "no".
Finally, tell your network! Your followers and email subscribers will be delighted to know you're finally on Pinterest!
Socialising your Site:
Optimising your Presence:
Add an icon (ideally your logo at a 180×180 resolution)
Include keywords in your "About" bio profile
Set your location as specific as possible
Verify your website. This certifies that you or your business is the owner of your website. Sites that have been verified show up with checkmarks in the domain search results. This can get you more traffic!
Use keywords in your board descriptions.
Keep your five most popular and populated boards on top.
Use keywords in pin descriptions
Include prices if you have a product catalogue. Simply include the price in the pin description.
Link your Pinterest account to Facebook and Twitter.
Pinterest board covers are square (600 x 600).
Being Consistent:
Infographics are extremely popular. Use images from your PowerPoint deck, marketing materials or website.
Get your customers involved by asking them to submit images of themselves or something that relates to your business.
Look at what your followers are pinning; these are things they enjoy and are important to them.
Consistently comment on Pins (adding value, not saying something like 'cool!")
Experiment with hashtags
Put discount coupons exclusively on Pinterest
Run an easy to enter contest:

Make the contest visually appealing
Make your prize appealing
Ask for a repin or for contestants to create boards
Cross-promote your contest through Facebook, Twitter and your website

Pin images of your employees at work or enjoying everyday life.
Have pictures taken at your speaking events to post on your board.
Comment on a pin you like, "like" it or re-pin to one of your boards.
Search for specific boards to follow.
Search periodically for a particular topic to see what others have pinned.
Browse the "Popular" pins section to see what is trending.
Find powerful images to enhance your blog articles and post them on Pinterest, linking back to the article.
Use these sites to get inspiration for your boards:
StumbleUpon – sign up and you will be introduced to new content that fits your interests

Paper.li – create your own newspaper, tailored ro fir your interests!
Instagram – do a hashtag search and you will find beautiful, inspiring pictures
Engage with your followers: When logged in to your Pinterest account, go to http://pinterest.com/source/yourwebsite.com and replace yourwebsite.com with your website's domain. Then you'll see all of the images people have pinned from it, and you can thank them!
Analyse your Pinterest efforts with the following tools: