About this series: We love it when website owners generate free reports of their site (and their competitors' sites!). But sometimes, we take it upon ourselves to generate a free report of a website of our choosing, and take a look at what it's doing well and where it has space for change. Each website tells a different story and fights a different battle, so we like to go into detail about potential improvements. Today's teardown is for cutting edge online publication Cool Hunting, which showcases the latest in design and product curation.
Score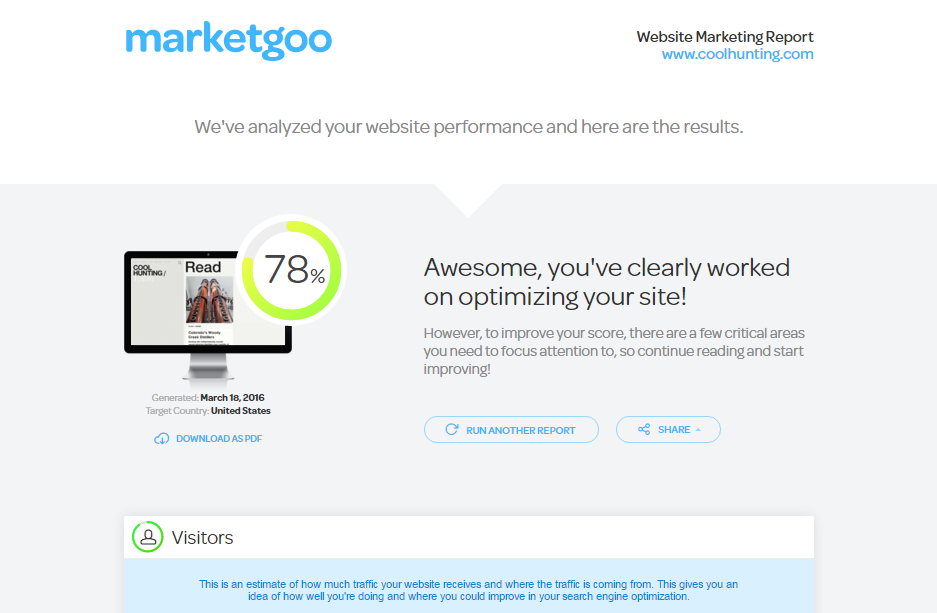 78% is a very good score. You can see not only because of the number, but by the green ring surrounding the score, which indicates the site is not in 'dangerous' territory (as red would indicate). This site is particular because it is not only heavy on images, but it also has a lot of text. This can be tricky, but as you'll see below, it is possible to use this to your advantage.
Visitors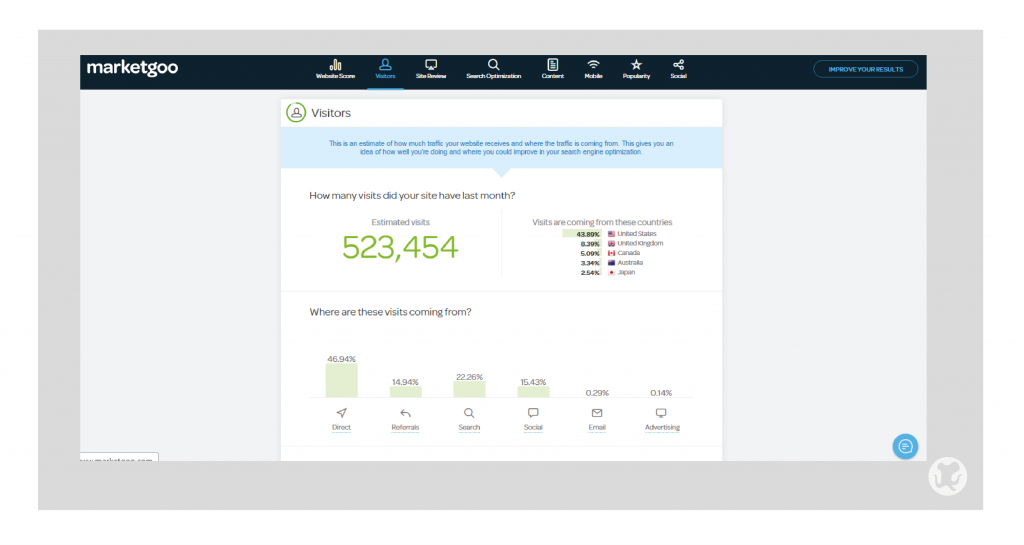 The Visitors section gives an overview of the site's main traffic stats. This website receives a lot of monthly visits and most are based in the US.  The breakdown you see is where that traffic comes from.
What kind of traffic is most desirable? For a site that is adding new content on a continuous basis (probably more so than the average website), they want their audience to be informed of every  update; this is best done through Social platforms, emailings and Referral traffic, because they are reminding your audience to visit your site and keeping your brand 'top of mind'. Referral traffic refers to the visitors you get who have been directed to your site through other channels, such as other sites, blogs, networks, guest posts, etc.
However, having a high percentage of your traffic coming in directly is also great because it means people are going directly to your site, whether they have your website address bookmarked, or they are typing in your URL into their browser bar. These are your power visitors, and your recurring visitors. This means you can count on them, because they have visited your site and are sticking to it. It is an indicator of a strong brand and means that you aren't dependent too heavily on external platforms and factors to get your site traffic. That's the ultimate goal!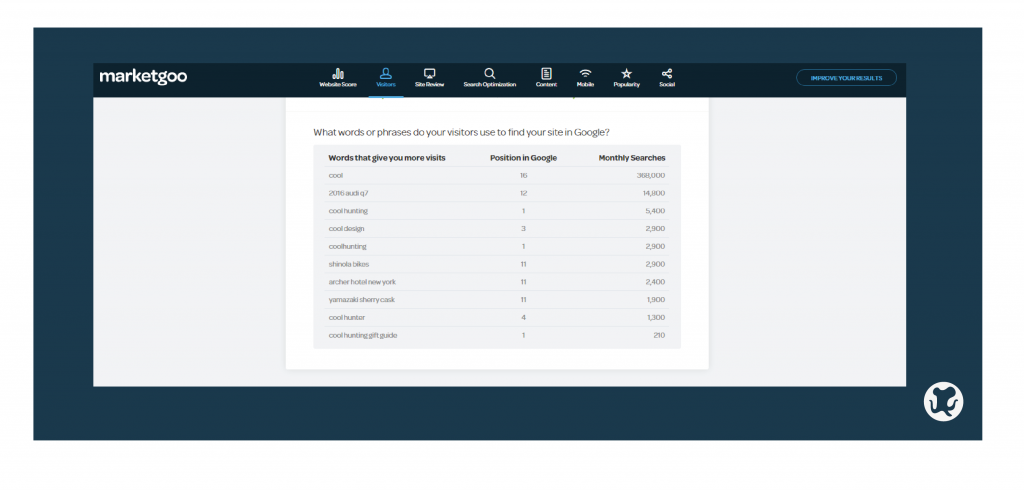 This section is critical for any website to evaluate how people are finding them. The keywords 'cool' and 'hunting' by themselves, are very generic and this is reflected in the search engine results position this site holds. However you can see they rank very well for the 'coolhunting' term (which they should aim for, as it is their brand name and is often used in the media to refer to those who keep up with design trends and new products). The term 'cool design' also sees them in a good position. coolhunting.com is in a perfect position to aim for more 'long tail' keywords (keywords that are more like specific phrases, for instance cool design trends, cool product ideas, trendy and cool design hotels and hostels, etc).
Site Review
Site Review is a quick overview of how search-engine friendly your site is. Here we see that there is a valid SSL certificate missing and that the website takes too long to load. High loading times are not uncommon on sites that are as image heavy as this one. However, there are still ways to optimise a site that relies on lots of images. Additionally, to make it faster, we'd advise for this site's webmaster to asynchronously load blocking resources. What's this? It means your page (and especially the elements 'above-the-fold') will be able to render faster and you'll see the more important elements of the page sooner.
Search Optimisation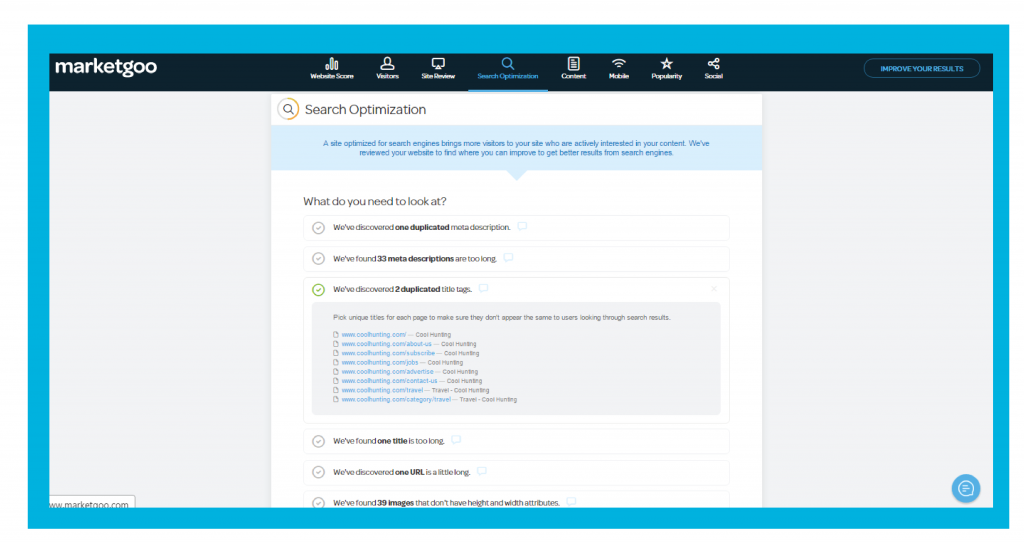 This is the less fun but very necessary part, because by optimising the elements that appear in the Search Optimisation section, you are ensuring that Search Engines will be able to 'know' what your site is about, and what are the most important parts about it. Since this site has loads of images, we need to make sure that the search engines know what those images are about, and that unique page and title descriptions exist and aren't too long. These are fixes that won't take more than a day to implement.
Mobile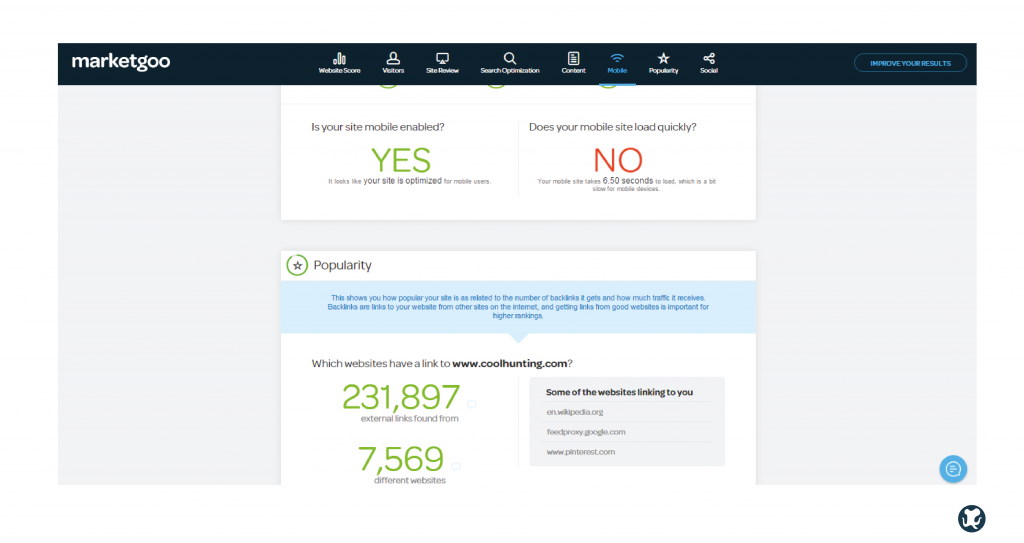 Since the desktop site doesn't load quickly, it's no surprise there is the same issue with the mobile version, but the way to deal with this is the same as we mentioned above. Making it less heavy is not hard and even with images, there are ways to make them lighter without compromising quality.
Social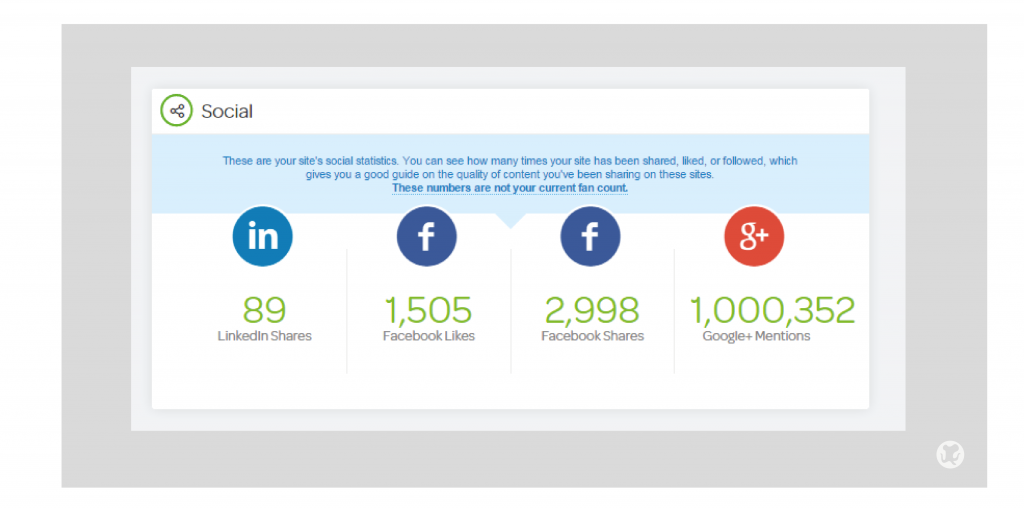 This is no small feat! Let's explain why these numbers are amazing: these numbers do not represent followers on social platforms, they represent the number of times someone has taken the time to share the actual URL www.coolhunting.com on their social profiles. We consider this an important indicator because it shows how popular the actual website is, we are not counting how popular one of its social media profiles is. That so many people are engaged with their website is admirable and shows they have a brand that stands on its own. You can see the full green circle next to the section title 'Social', which means outstanding job!
Overall, this site barely suffers from issues, but as you can see, even a site with a score of 78% (which we consider very good), has room for improvement.
Check out the full report for Cool Hunting or generate your own!
Disclaimer: we are not affiliated with any of the websites featured in out Free Website Report Teardowns.