Last time, we took a look at user preferences around WordPress plugin pricing as well as insights on the plugin adoption lifecycle in our last post unveiling the World of WordPress Users. Now, we'll look at the customer archetypes we identified.

Throughout the research sessions, 4 user archetypes were identified. Archetypes don't describe a specific person, but rather a group of people who have similar behaviours and ways of thinking.
So, it is possible for an agency or SMB to fit into more than one archetype, which are:
Spectator
One-Man Band
Director
Digital Plumber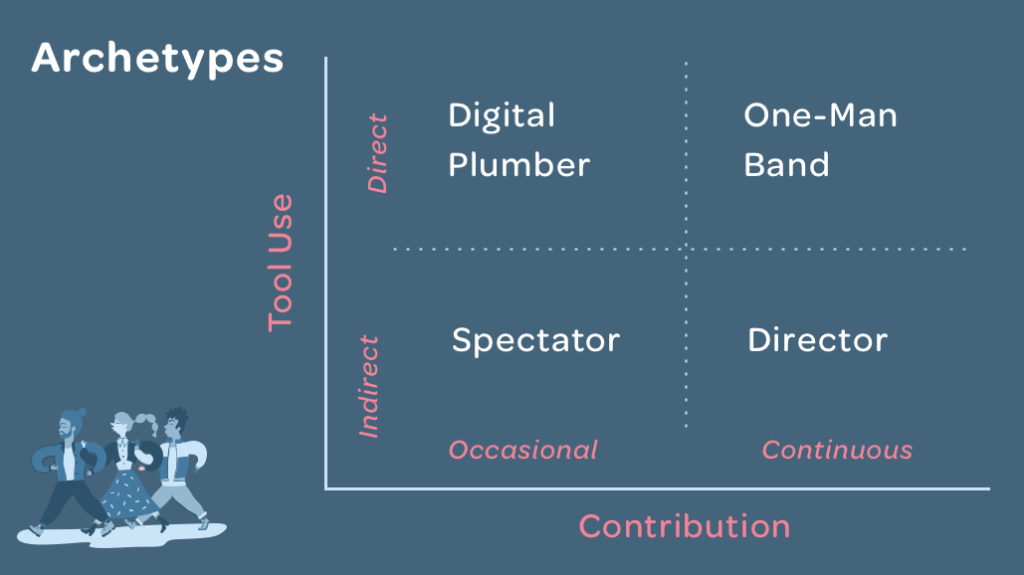 Spectator 
The Spectator trusts third parties for picking out tools and solutions, not getting personally involved in website management or digital marketing.
They lack a clear plan to use these channels for business growth. We're briefly mentioning this archetype, but won't go into detail as they're not highly engaged in service or tool selection for their digital marketing.
One-Man Band
The One-Man Band has clear standards for their business, and has a lot of experience. They proactively search for ways to optimize, improve, and learn. They don't have a stable team or many employees, so they do whatever they can, themselves.
Even when they outsource, they're still heavily involved in the process.
"I have educated myself on managing the website and anything related"

– U09
| | |
| --- | --- |
| Motivations | Ownership and pride. Likes seeing how their efforts impact business results. |
| Needs | Needs to resolve tasks and feel like they're progressing. |
| Will adopt tool if.. | They understand how the tool benefits them, and perceives the learning curve to be somewhat shallow. |
| Will recommend tool if… | The tool/solution provides real value to their business, and if customer support is efficient. |
| Will abandon tool if.. | The learning curve is too steep, or if they eventually decide to outsource. |
| Trusts… | Peer networks and content (1:1 sessions, Social Media, podcasts, masterminds…) |
| Ideal User | Has a marketing background, not an SEO expert but understands its importance. |
| Superpower | Volume. Without having the highest ARPU, they can make up the layer of users that most use the free or most oaffordable tier of the tool/solution. |
A more detailed profile of the One-Man Band
Implications for SEO partners & resellers
The One-Man Band is an archetype that hosting companies are very familiar with, as they usually interact a lot with support agents and consume support materials. They make up an important segment of customers.
The way to approach them is to keep in mind their objections:
Difficulty to determine which plan or tier is better for them
Overly technical terminology
Unresponsive customer support
Connect with their motivations and facilitate their adoption journey:
Social Proof: online reviews, participation in online communities
Offer responsive, human support
Give them resources that are focused on their industry or niche
Help them monitor the evolution of their business metrics
Help them benchmark their business metrics against competitors
Update the value proposition aimed at them: Guidance. Improve your SEO step-by-step, following a clear and actionable plan. Your plan adjusts to your rhythem, monitors your results, and helps you update your strategy based on our guidance. Forget spending hours searching for SEO solutions.
These insights can also be used for other add-ons you offer.
Show the One-Man Band how your tools and products will contribute to their business success and their growth as a professional.
marketgoo approach
This customer relies heavily not only on our Partner's customer support, but also on the content offered on the Partner's blog, knowledge base and other media such as YouTube.
Besides offering our Partners training specifically for support agents, we also have content templates they can adapt for their customers, such as SEO cheatsheets, or webinars.

👋 That's it for Part 3! Next, we'll cover the Digital Plumber archetype.