This is the second installation of our "World of WordPress Users & SEO" series.
Last time, we spoke about how users try to solve the problem of getting more traffic to their WordPress sites and what factors they consider when choosing vendors.
This post will cover additional user preferences around WordPress plugin pricing as well as insights on the plugin adoption lifecycle. 

Trials: very effective
Free trials are widely recognized as a way to expand a customer base and positively impact revenue through higher conversion rates. 
However, when it comes to premium WordPress plugins and themes available in the market, free trials are not as common as one would expect. 
Besides technical issues making the implementation of a trial functionality quite complex, the fear of trial abuse among plugin developers is also an obstacle.
Our research found that trying out a tool before committing is something that is widely expected by potential users, since they are consistently able to find free alternatives to most tools anyway. 
This is especially true when customers consider that the tool isn't resolving any pressing needs or problems they currently have. 
Implications for SEO partners & resellers
Trials appear to increase trust as well as the lifetime value of customers, but regardless of the strategy you use, educating your customers about SEO is fundamental.
When they understand SEO as a critical component of their website activities, they will consider it worthy of an investment and you will be able to overcome objections preemptively.
marketgoo approach
We enable Partners to go straight to market with a premium SEO plugin offering, for underserved customers who are not getting what they need with the free and paid options currently available in the market.

We have a freemium version of our plugin with a built-in upgrade strategy, leveraging the product itself to drive sales and expand reach. 

We have successfully employed free trial campaigns in order to show the value of our SEO tools before customers commit to a paid plan. These campaigns have converted thousands of users to annual paid plans. If you're a marketgoo partner, please ask for our free trial playbook today!
I would start with the minimum, the free version and if I see it's not enough I will go for a paid plan.

Participant #18
Pricing: a tricky business
When it comes to determining what is a fair investment to make in tools, customers don't seem to know what they want, what their exact budget is, what they deem an appropriate price, or even keep an eye on the expenses associated with subscriptions.
If getting a free version of the tool is simply not an option, the general perception according to our research was that a monthly cost of between $30 and $50 USD would be reasonable.
If the tool allows them to serve third parties (in the case of Agencies offering services to clients), then $100/month was considered reasonable. 🤑

Implications for SEO partners & resellers
This finding was interesting, because in our experience, when we've offered our SEO tools directly to the market, it fits with the prices stated by research participants.
However, as we are all too aware, web hosting (the market where a large number of our Partners operate) is a very price sensitive market.

It wouldn't make sense for customers paying less than $5/month for the core product to be on board with paying five times that for a single tool. 
However, the lack of precision and confidence in what constitutes a fair price shows us that rather than being "cheap" or "expensive", it's all relative and can be heavily influenced by anchor pricing, as well as social proof and level of differentiation of the tool (where customer education plays a large part).
Additionally, there is an opportunity in higher paying customer segments (like Agencies and Web Professionals) that understand the value of tools that help them serve their clients better, and are willing to make an investment. 
marketgoo's approach
We work individually with Partners to determine go-to-market and upgrade strategies that will best fit their target customers, taking into account our experience but also the Partner's own price sensitivity research and customer knowledge.

We provide content templates and knowledge base materials so Partners can implement educational sequences and nurturing campaigns educating customers and their audience on the value of working on SEO. 

We have always worked closely with the digital marketing agency segment (10+ years) and understand their unique pain points.

We've recently built upon this experience with our marketing reporting tool Badger, which has helped us gain even more insights into this segment.

There is cross-pollination going on between the Badger and marketgoo teams, so look out for their respective products becoming even more complementary to each other!
I could sell a $50/month deal to my manager..!

Participant #21
Adoption lifecycle
It takes time for end-users to adopt a new tool, but the stages and milestones became quite clear during our research. 

In the diagram below, you'll see the users' road to adoption, including their needs at each stage.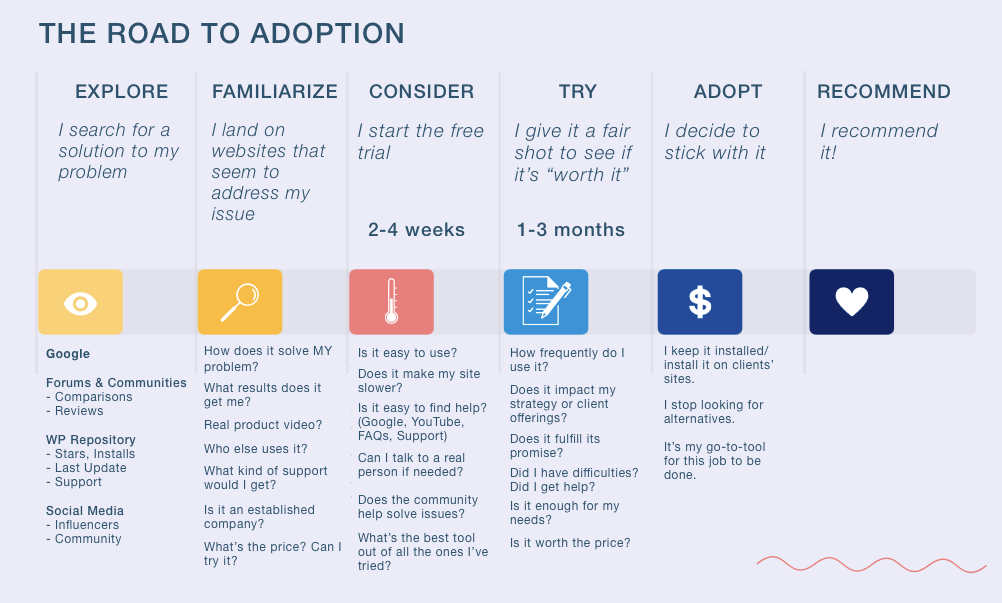 Implications for SEO partners & resellers
We still see quite a few online presence providers who are not creating online tutorials, comparison pages and knowledge base content for the top of the funnel!

This is critical for when potential customers are looking for solutions, and the content needs to go above and beyond to provide real value, not just re-hash what competitors are publishing.

It also comes into play when customers or those trying out the tool are trying to be self-sufficient and looking for help to troubleshoot or understand how to use the tool.

Don't neglect changelogs and release notes! We've found that potential customers are looking at how often the tool is updated, and what information is shared regarding those changes. 

Fantastic support does not go unnoticed. This is something that most plugin developers are aware of as evidenced by the responsiveness and positive, friendly tones we see in the support forums at wordpress.org, and responses to reviews.


How marketgoo addresses this
We believe that training our Partner's support agents can play a big role in acquiring and retaining customers using SEO tools. When they understand the benefits and know the tools inside out, they really are an ally to the customer.

We also provide support if needed when Partners are generating top of funnel content on SEO and digital marketing.  
👋 That's it for Part 2, in the next and final installment, we'll go over the user archetypes we uncovered, and how they respond to different messaging and positioning of plugins and tools.