Product Update is our monthly communication that showcases the latest changes and improvements we've accomplished.
Here is what we did in January:
Website Checker
Website Checker is the provisional project name for our brand new report!
A new development that joins our extensive product portfolio with the main goal of helping our partners to drive awareness to both pro SEO tools and other services (such as SSL certificates, website builder, etc).
With a layout and a workaround much alike it also scans the user's site and provides a series of datapoints and recommendations to improve sites' web marketing. The main difference is that it takes special care with new and small websites that are looking forward to improving their performance right from the start. However, the possibilities are wide and it depends depend on each case. We are already testing some alternatives and are excited to see how will it impact the market.
So, the benefits at a glance are:
Up-sell driver to different partner services: SSL certificates, website builder, domains, VPS, DIFM, etc.
Onpage factors focus: ideal for new/small sites that lack of a great performance and are looking to improve it.
Highly white label customizable: just as our complete portfolio.
Combinable with the Website Report: for existing partners already using the WR, this brand new report offers a whole new option to run lead generation strategies.
Interested? Let us explain how can we help you optimize your sales process. Say hi!
 Product Improvements
So 2017 is for us the year of Product.
It's not our intention to tease before having anything ready but yeah, we have been working hard and will continue over the year following this journey. A path that means improving the experience, updating the interface, polishing the accuracy, adding new features and revisiting current ones.
Stay posted for the next releases!
New tasks
Search Console is the new name for the previous Google Webmaster Tools service, a very useful set of tools for your business' online success. Our new tasks will help you to understand Search Console indicators and learn about how they impact your site in a much more user friendly experience. Also, Search Console is superb in gathering and displaying relevant data but lacks an action plan, marketgoo will provide you a personalized marketing plan based on the audit made to your site.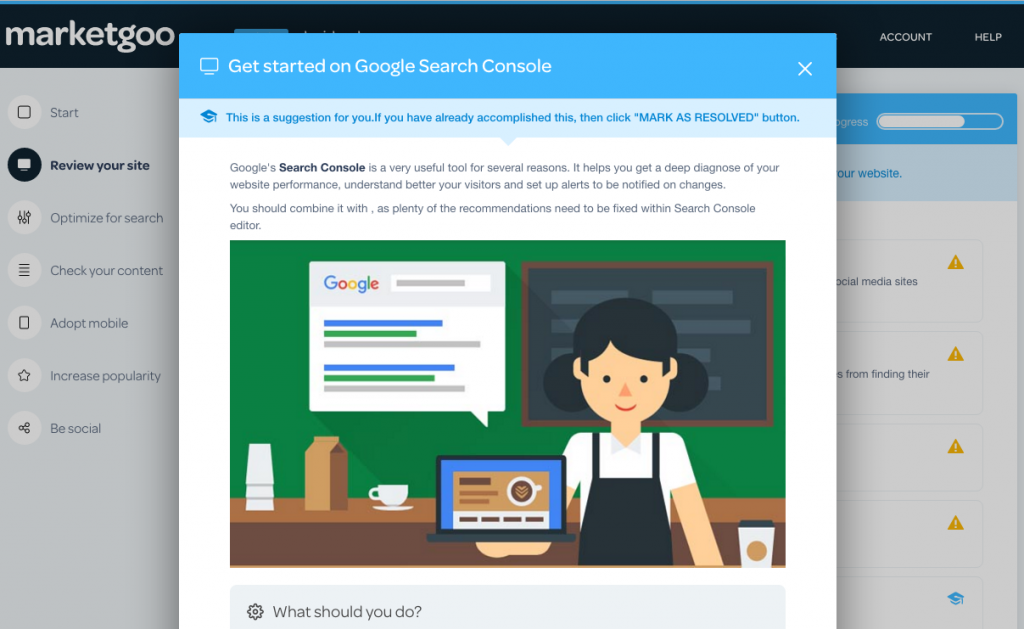 ---
Go ahead and try out marketgoo. Optimizing your site and growing your business is just a few clicks away!
Feel free to make any comments and suggestions. Your feedback is what makes us better.
You can take a look at our previous Product Updates or subscribe to future releases.