Product Update is our monthly communication that showcases the latest changes and improvements we've accomplished.
Here is what we did in July, August and September:
Up-sell strategy
As we already announced in latests Product Updates, we have been working on improving the progressiveness in our portfolio of products. We are as dedicated to our users as we are aligned with our partner' strategy to help them increase their business. marketgoo Start, a light version of the tool, plays an important role in this flow. Distributed in high volume, the product aims to create product awareness about SEO and website marketing and drive this interest into marketgoo EVO.
In this sense, we have developed and fine-tuned a strong up-sell strategy, outlining the user journey from the starter product (Start) up until the full feature (EVO), defining up-sell paths that will improve the understanding of premium value products and increase conversions without overwhelming the User.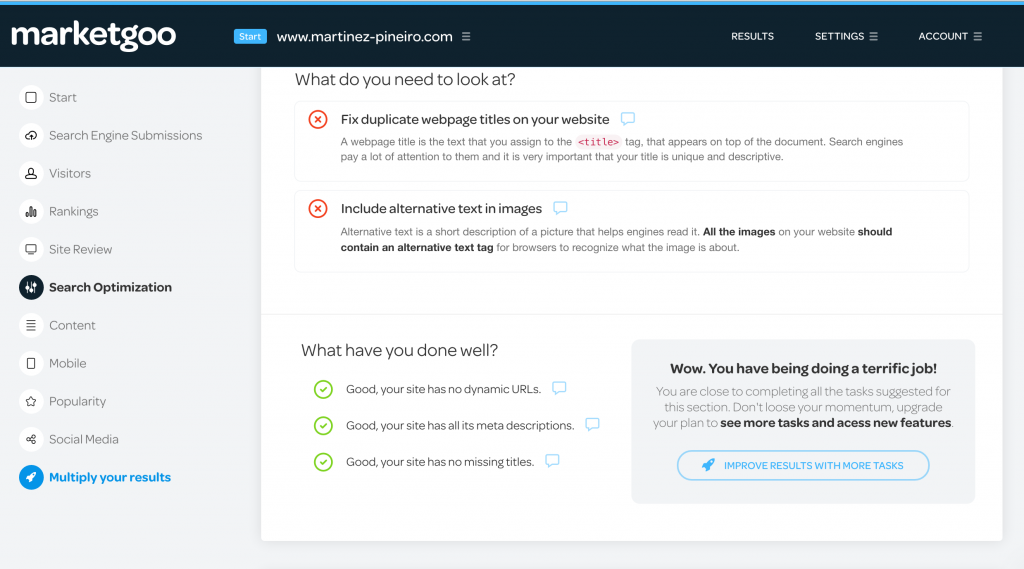 Website Report in Weebly's Dashboard
We have been working recently with Weebly adapting marketgoo to their top-notch website builder platform. We are already offering tailored recommendations for Weebly sites and displaying all the useful information our technology gathers in Weebly's panel with their Dashboard Cards project. Even though is still soon, we expect a high impact on user engagement and satisfaction.
With the launch of Weebly 4 we have gone one step forward together. From now on, our Website Report will be available in Weebly's App Center for every user to install and run a free real-time SEO and website marketing audit and decide whether they want to try marketgoo EVO. The Report will also be available in the Dashboard Card so the user can have a recurring update on how their site is performing in search engines.
On a much broader point of view, after this experience it is clear that CMS adaptation is key for a technology like ours to provide a great value and to help the user to be successful. That's why we are already working on othermarketgoo CMS versions.
Swedish and Danish
Similarly, our long term vision is to adapt marketgoo to every use case, whether if this means CMS, industry, type of web, or like in this case, language. One of the most recurrent demands we receive is to have our set of tools ready for different languages. So in the next weeks, we will have Swedish and Danish available.
But we won't stop there and more languages will come in the next months. Subscribe to our newsletter to be updated.
Staging Server
In our roadmap, we need to keep a good balance between product development and investing resources improving our systems, among many other issues. In this case, the Staging Server is an internal project, mainly focused in testing purposes and implementation of new products.
Something that is not directly consumed by the user but it adds a lot of value in the workflow process that leads indirectly to a better user experience.
Admin Panel
Another internal project we have recently developed as a platform for our partners to leverage on actions and management that not longer will have to come from our end.
It will give both of us flexibility and freedom, but furthermore, it will allow our team to invest more resources in the future to keep improving the product.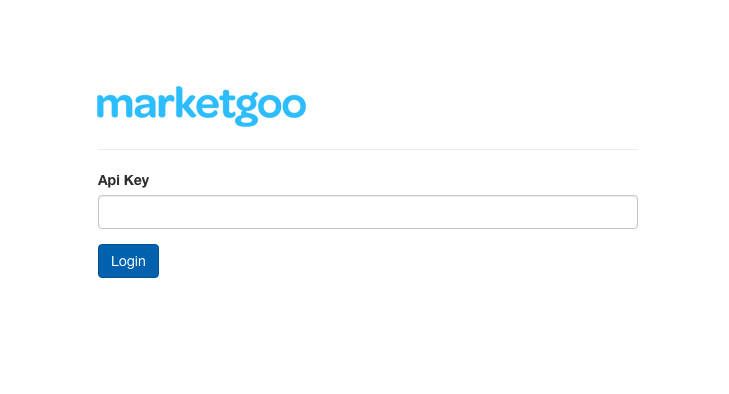 ---
Go ahead and try out marketgoo. Optimizing your site and growing your business is just a few clicks away!
Feel free to make any comments and suggestions. Your feedback is what makes us better.
You can take a look at our previous Product Updates or subscribe to future releases.