In this series' most recent post, we talked about why web marketing tools were important for hosting providers. Today, we are going to really dig into the topic, and be more specific on what are the most urgent SMB requirements and demands.
First, there is the need to understand what the market size is, and therefore of the opportunity that exists in targeting SMBs with website marketing offerings. It's easy to think that every company has a website already, and that the potential growth might not be that interesting. However, according to studies, there is still a huge growth potential in web presence worldwide:
So, obviously this is a huge opportunity for companies wanting to leverage this market. But a question that arises is, among the hundreds of different needs a company may have regarding their marketing…
What should a hosting provider offer?
The solution is quite simple, if we take a look at the objectives that these websites have, and what strategies work best to achieve these.
On the side of the objectives of website owners, it depends on the audience that company has (mainly differentiated by B2B or B2C):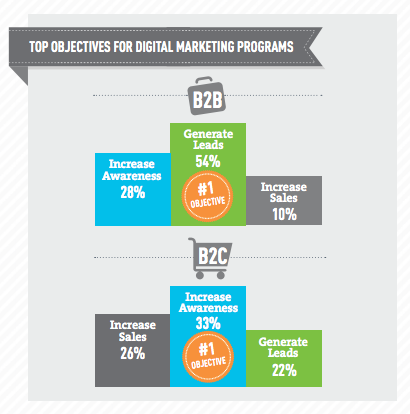 As seen in the image, taking the aggregated data of both types of companies, lead generation remains the most important objective for companies with a web presence.
What are the marketing strategies to achieve this lead generation: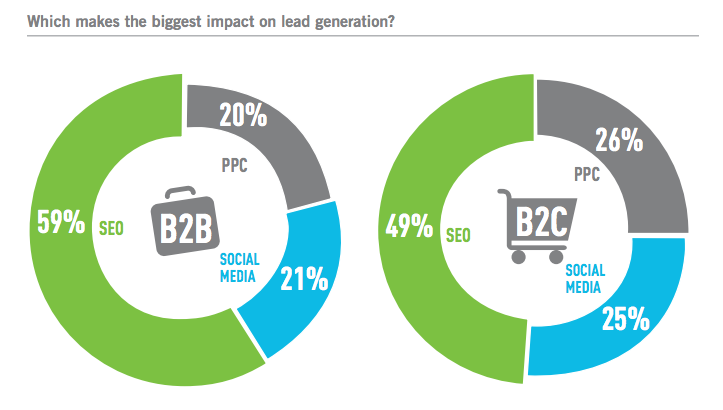 As seen, the major activity to obtain leads online is by far SEO. This is supported by numerous facts, as presented by HubSpot:
61% of global Internet users research products online. (Interconnected World: Shopping and Personal Finance, 2012)
44% of online shoppers begin by using a search engine. (Interconnected World: Shopping and Personal Finance, 2012)
75% of users never scroll past the first page of search results. (MarketShareHitsLink.com, October 2010)
Businesses with websites of 401-1000 pages get 6x more leads than those with 51-100 pages. (HubSpot Lead Generation Lessons from 4,000 Businesses, 2011)
It seems that the voices that periodically claim that SEO is dead (and then get replies from others who think just the contrary), might not be correct in that statement. SEO however, is constantly changing and evolving, and it becomes complicated for most people that are not professionals in the area. Google is often changing the rules (see this post about "not provided" in organic search Google Analytics), and making things even more complex.
To solve this lack of deep understanding, SMBs end up hiring agencies that eat up a big piece of the marketing budget of these companies, or hire SEO professionals, with the risk of malpractice.
At marketgoo, we believe in turning things around and empowering website owners. With that idea, we developed our tool as at do-it-yourself solution that is accesible both in financial and usability terms. Therefore, our clients don't require any special knowledge about website marketing or coding to be able to succeed online.
In this sense, there are many other successful companies that use a similar approach, for instance we have web builders that offer a simplistic approach like Wix, WordPress or Basekit; or in the mobile space there are companies like goMobi.
Many important hosters such as GoDaddy, 1&1 or UK2.net are already offering tools like web builders, backup systems, marketing tools, etc. You should too!
Related articles