I've written at length about our Culture system and its components. In this post I wanted to expand on the concept of a Team Assistant, that began as an experiment but now is an important part of the way we work.
I believe that this role will be a highly valuable asset to your startup.
How can an Assistant be Revolutionary?
Having an assistant isn't really groundbreaking, we all know plenty of startups at every stage of maturity that count on general or department-specific assistants.
At marketgoo, we have a mostly flat hierarchical structure with no in-house administrative help, and when we bounced around the idea of a Team Assistant, we really wanted to take it a step further.
We wanted someone who could assist us with work, but also with our lives.
[Tweet "We wanted someone who could assist us with work, but also with our lives."]
To us, this was what would really provide impactful support for us, and keep us in line with our values. We want to have a positive workplace with few distractions so we can Rock On (Value # 5).
The main idea is that the TA frees up our personal and professional time, so our members are less stressed and generally happier 🙂
The Culture Team asked everyone if they would feel comfortable outsourcing personal stuff to the Team Assistant (now known as the "TA") and they replied "Hell yes!"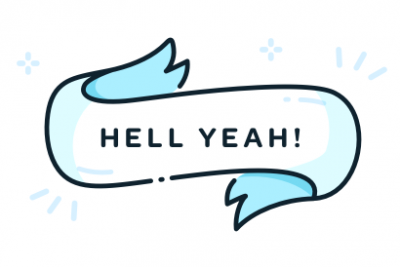 Now that we had buy-in, we actually needed to make this happen.
The Search for the Team Assistant
With help from members of Team Culture, we opened up a process on Upwork. We previously had positive experiences using the platform for hiring, and it expanded our reach a lot.
We developed a job description that required a cover letter, invited some pre-vetted VA freelancers we had shortlisted, and watched the applications roll in.
After about a week, we created an official shortlist of candidates and invited them for a screening interview with one of the members of the Culture team.
4 candidates passed the screening interview, so they were asked to jump on a call with me.
During these interviews, it was important for us to not only describe the job expectations, but also our Culture and how the TA would be a collaborator and enabler of our Culture, but not a full-time participant.
At first this might sound a little odd, but we curate and nurture our Culture so much that it's important for us to shape and prune it so that we can continue to grow it at our own pace.
Deciding on the TA
I was feeling positive about a couple of the candidates I had spoken with, and we had begun speaking internally about who might be the best fit, when an opportunity fell out of the sky.
A collaborator from our Accounting department had time on his hands and felt he could handle more tasks. Better yet, he already knew everyone on our team – full-time team members as well as contractors and vendors.
He knew our business model, knew exactly who our Partners were and he had collaborated directly with me so he was aware of how I work.
All this meant that our On-boarding time would effectively be reduced to zero, and we could hit the ground running.
We closed the process on Upwork and thanked the candidates for their time.
From Office Manager to Life Manager
Being a remote-first company, we don't have an office manager, but the TA is in the perfect position to become our life manager.
How does it Work?
Channels: we have the TA on our Slack workspace
Billing: the TA tracks minutes for every action and he charges us an hourly rate, billed at the end of the month
Policies and Procedures regarding the TA are published on our workspace wiki (we use Confluence)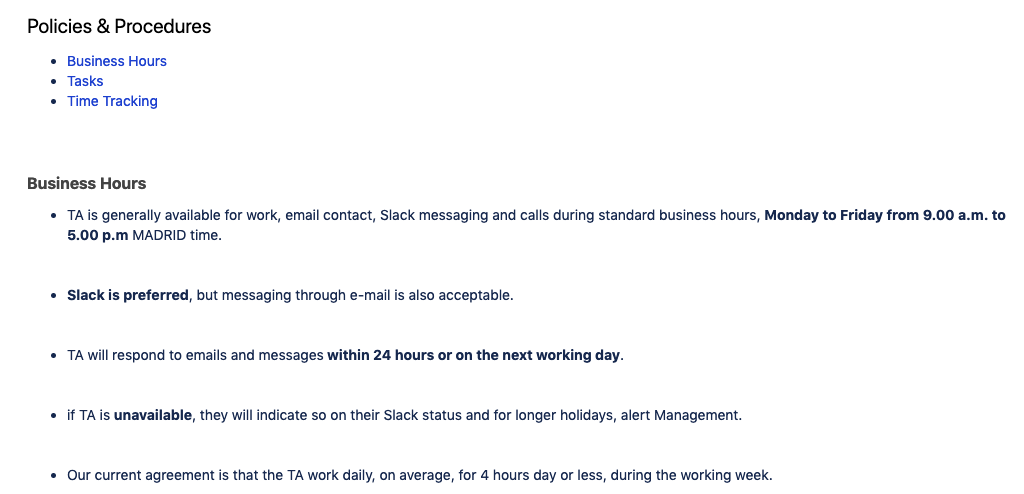 There is no restriction as to the nature of the tasks, and Team Members will do their best to ensure they don't enter tasks that demand urgent (same-hour or same-day) turnover.
Examples of Tasks: book a time to change my car wheels, buy me a screen, research providers for merchandising, book me a train ticket for my family getaway this weekend, more more etc.
Experience so far:
We have feedback from some team members about how it's helped them, and we're encouraging more team members to make their lives easier more often with help from our TA.
Pues esto del @mktgoo team assistant ha surgido espontáneamente y ya lo mola todo. Llevaba retrasando una cosa durante años y me va a echar un cable para solucionarlo 👌🏼 pic.twitter.com/IJGhw75owe

— David Roch (@davidrochg) December 20, 2018
David, our Head of Product, tweets about how he had been putting off a non-urgent task for years, until the TA did it! 
The TA has helped me do work things that we needed but never considered urgent (so they were backlogged into oblivion). He's also helped me make calls, find out details for errands. My mind is no longer bogged down with every tiny little admin detail. I know I just need to drop him a line and it's as good as done.

– Larissa, Marketing Manager
So, there you have it!
I'd love to hear thoughts on whether you've implemented similar schemes at your own startup.