Here at marketgoo, we work daily with hundreds of SMBs that want to optimize their website marketing strategies. Their objectives are usually the same, increase the number of qualified visits in order to gain leads that result in higher sales in their traditional businesses.
Most of our customers excel at their businesses but they require a tool like marketgoo because they find it easy and effective in solving a problem that for many people is highly time consuming and complicated.
From our experience, we have realized that many of our customers still don't understand the difference between SEM (Search Engine Marketing) and SEO (Search Engine Optimization). The difference is easy, SEM are ads for which you pay Google, Bing or Yahoo to appear, and SEO is naturally appearing in the first positions when customers search for terms related to your business.
Here's a picture to illustrate: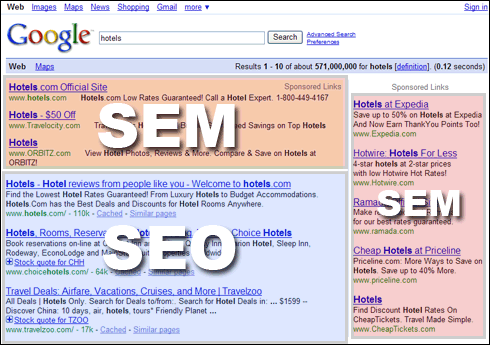 A business could be very successful by simply paying for ads (SEM), and it is something advisable to do, especially if your margins are high enough to pay the cost of acquisition, or with broader objectives such as to protect your brand from competitors etc.
However, SEO provides sustainable and long-term benefits, and what is most important, it's FREE! Here are some facts to prove it:
75% of all consumer journeys online start with a search
The first 3 SEO results get 64% of the clicks
94% of users never visit the 2nd page of Google
72% of marketers include social media strategies to boost their SEO
And finally, 76% of SEO professionals invest in content creation
We hope to have clarified some doubts, and reinforce the importance of having a balanced website strategy to achieve success.