Updated March 2018
There are plenty of tips on how to get started on Pinterest for Business, how to 'win' at Pinterest, marketing for Pinterest, and so forth. We decided to give you examples (sometimes it's better to learn by looking at others, rather than just reading through tips and theory!) of brands we think are doing a good job on this social network. Not all of them are doing similar things, so instead of trying to pinpoint the necessary elements for success, use these to get inspired, and recognise what could work for you.
1. Sockaholic This Spanish sock brand uses their profile not only to pin their latest collections, but also to share a style board for their customer's to get some fashion inspiration, and they have a board with things they like, which transmits the spirit of the brand.

2. FormFire Self-described part-time glassworker and teacher, part-time residential designer, part-time writer, full-time mom – producing modern, minimal and sophisticated lampwork jewelry,  this profile has garnered over 2 million followers! Most of the boards are inspiration, and it doesn't matter that there isn't even a seasonal product catalogue – with the amount of content-rich boards here, you just know that visitors will get curious and click on the official website's link.

3. The Strategist This site aims to curate and test the best products across many categories so you don't have to. From baby gear, to beds, food and office gear, their boards reflect all the content they publish on their site and newsletters.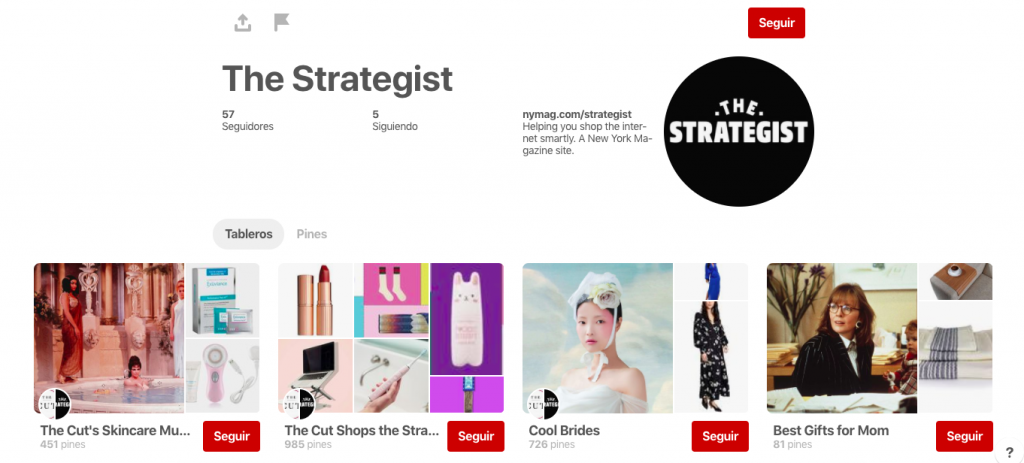 4. Tablet Hotels Instead of just pinning the hotels they have listed, Tablet takes it a step further and has boards for each destination, with not only hotels, but sights to see, and a great 'hotels that float' board which you should check out 🙂
5. The Grommet This great e-commerce site uses the platform well as a catalogue showcase, but also has boards where they've classified their product offering in a nifty way: 'gifts for women', 'gifts for men', 'green and eco friendly', etc. There are also many inspiration boards for visitors to browse. See how they also have a showcase board that hogs the spotlight when you first visit their profile.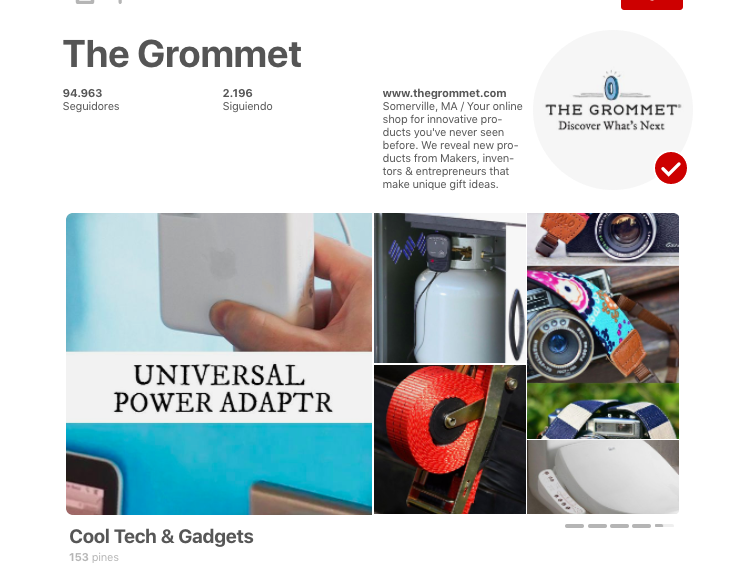 6. University of Pennsylvania Penn's Career Services has taken a rather ambiguous topic and made it into an incredible resource. They've made Career Services about Outfits to wear to Interviews, Moving to a New City, Inspirational Quotes, Events, Weekly Themes, Boards for every imaginable career, etc.

Check out some more some stats on Pinterest in this full infographic made by the guys at websitebuilder.co.uk.
Pinterest is part of your strategy to get your brand and website noticed. Get your FREE SEO Report below, to see what other things you need to do to make your site rank better on search engines like Google: