The party rentals and supplies industry is very strong and always evolving. You need to keep up with trends and stay informed in order to grow and thrive. This includes maintaining and improving your website's optimisation for search engines – to get found by potential customers and attract business year-round instead of just seasonally.
Before you get to your SEO cheatsheet for party rentals, we're going to quickly show you a website that's doing it right, so you can see how all these best practises are applied.
Allure Party Rentals from Fort Lauderdale makes their website work for them and attract the right kind of business. How?
Correct keywords and inclusion in title and meta descriptions. You can see they are featured on Google's local search results and have a top ranking for their preferred keywords. Note how their title and meta description contains the cities and counties they serve and specific items potential clients might be searching for, such as linens, tables, etc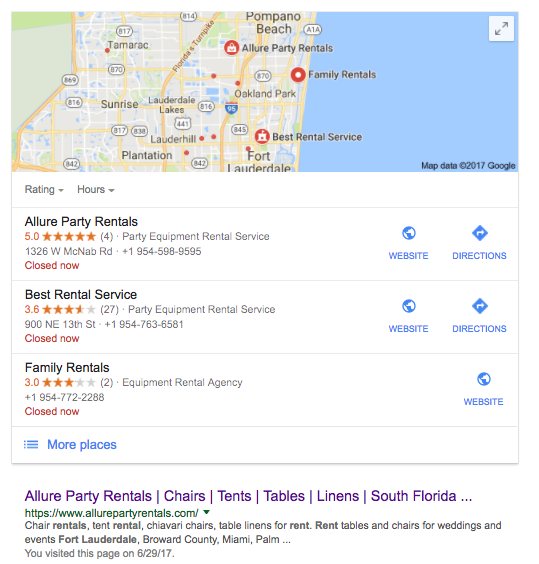 Updated Contact details. Note how this updated information feeds the local Google search results – this is why it's so important to list it and keep it updated on your website as well as your Google My Business page.
Solid social media presence. Social channels are places where you can interact with potential customers, answering questions, providing inspiration, and showing them what you can do!
Good reviews. Encouraging your customers to leave reviews on Yelp, Google and Facebook can attract more visitors to your website. Make sure you are always actively seeking reviews, and also include a selection of the best ones on your website!
Now, go ahead and take your cheatsheet below!