Being an event planner is one of the most stressful, high pressure jobs out there. You don't want to add to the stress by having to figure out ways to get your website ranking better on search results. SEO best practises apply to event planner sites, but given the nature of the industry and job description, there are a few things to keep in mind.
Take a look at our super quick reference for you to make sure your website is right on track. We emphasise that the more specific your focus, the better. This not only goes for optimising your site, but also your business in itself.
[Tweet ""Without a niche market, it makes it hard for the consumer to find you"- Dr. Joe Goldblatt, event planning expert"]
We also emphasise the social platforms' importance in getting leads, because through the photos you share, and the link to your website in your profile bio, you will also be generating traffic and new clients. Want to see examples of event and wedding planners doing Instagram and Pinterest right? Here are a few:
Soireebliss! Events on Pinterest shows a gallery of their events and aspirational photos.
https://es.pinterest.com/soireebliss/
Yellow Umbrella Events on Pinterest shows event and inspiration photos, with different board for different events. They have optimised their social profile for their location – Texas.
https://es.pinterest.com/YUEvents/
Wink Design & Events has a very popular Instagram profile, and by looking at the beautiful photos they share, you can see why. See how they use the appropriate hashtags for each image they post.
Below you can find our cheatsheet for SEO made with Event Planners in mind. You face unique challenges and we aim to help!
[sociallocker id="3717″] [/sociallocker][sociallocker]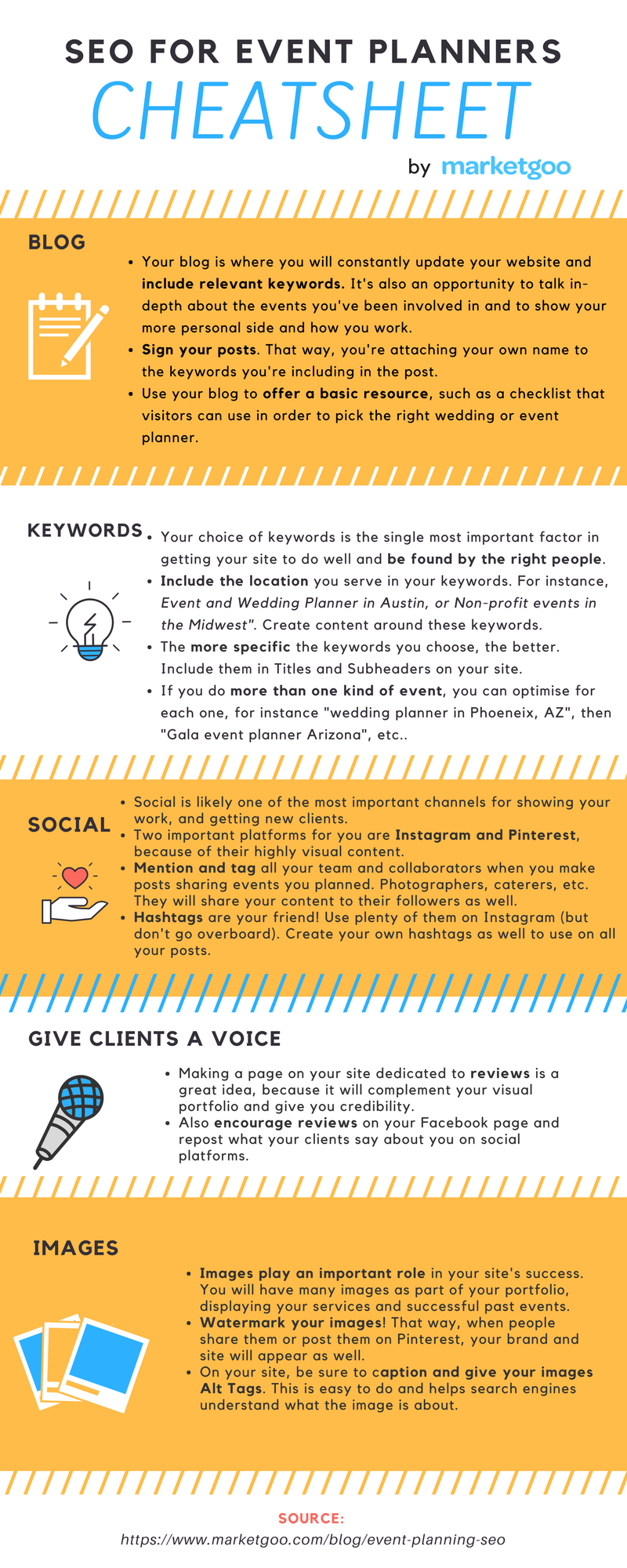 [/sociallocker]