Updated March 2018
H1 Heading Tags for SEO
In this post you'll learn about what H1 Headers are, why they are important and how to implement them on platforms like Weebly, Wix, Squarespace and WordPress. If you want to skip to a specific section, below is the menu. Otherwise, just start reading!
Skip Directly to: 
What are H1 Headers?
You may have heard of main "Headers" and "Heading Tags". These are also known as h1 tags (also written as <h1> tags) or a main Header, and you can recognise it because it will usually be the largest text in your page emphasised, and act as the title of your page or of a post.
Not all Header tags are created equal, though. From h1 to h6,  they form a top-down hierarchy. The most important one is the h1 tag and least important is the h6 tag. If you skip any of the tag numbers, the heading structure will not flow, so if you start with an h1 tag followed by an h4 tag, the structure will look a little wonky from an SEO perspective.
For example, use the following taxonomy to get an idea of the relative importance and semantic hierarchy of tags:
Organism  would be like <h1>
Animal would be <h2>
Mammal would be <h3>
Carnivore would be <h4>
Dog would be <h5>
Beagles would be <h6>
You start with the broad, and you end up with the more specific 🙂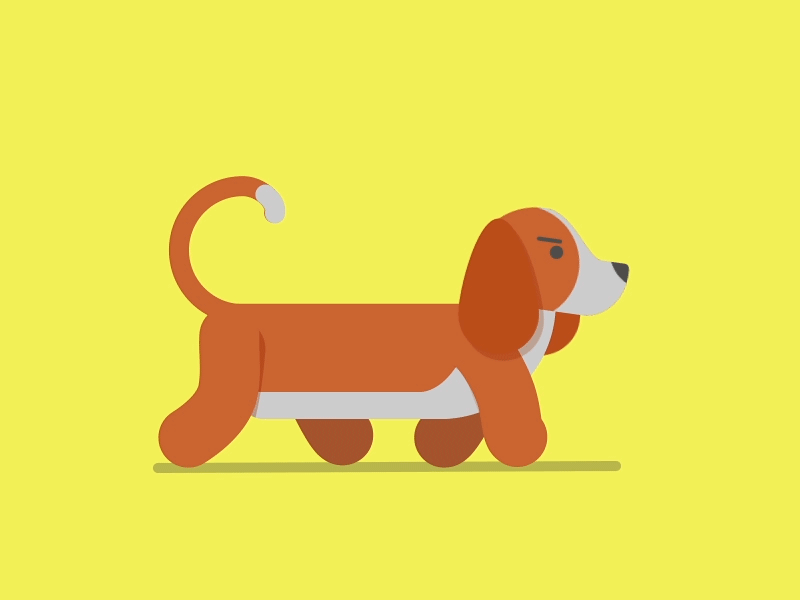 Gif by Paul Goerne
Why are H1 Header tags important?
They are important because they are one of the things search engines like Google or Bing scan in order to understand what your site is about. Once the search engine knows what your Header tag says, it will compare it against the rest of the content to establish how relevant it is. Do the keywords in your Header match the keywords in other parts of your page?
They are also important for the actual visitor to your page, who will see the Header as a clear indicator of what the page content is about.
What does the task look like on marketgoo?
Within marketgoo, this task falls within the "Optimize for Search" section. Once you choose the keywords you want to focus on, you subsequently optimise each page on your website for those keywords. You will get a recommendation to have your H1 Header include one or more of your focus keywords.
How do I insert them?
Depending what platform you are using, the instructions will vary.
h1 tags in Weebly
Weebly is famous for it's easy, drag and drop style, perfect for those that don't want to get stuck in the technical details of building and optimising their websites. It is therefore easy to drag and drop a "Title" element into one of your pages, but as it turns out, this will create an <h2> header, not an <h1>. If you recall the Header hierarchy, you'll know that having an h1 is important. Currently, there are 2 workarounds for this.
The easiest way is to add the free H+ app from the Weebly App Center to your Apps, and then drag it into your post or page wherever you want your h1 or other headers to go. They have different font, colour and size options.  
The second way involves dragging the "Embed Code" element into your page, and insert the following code:
<

h1 

style

=

"text-align:left;font-size:28px;"

>

 

This

 

is

 your Page's H1

<

/

h1

>
you can see that this specifies the alignment of the text, the size, and the colour. These are all things you can change. Where it says "This is Your Page's H1", you'd of course insert your own title.
For Blog posts, the procedure is a little different, you can check out a great tutorial here.
h1 tags in Wix
When in the Editor:
Click Add

on the left side

Click Text
Click Site Title
Click the text element
Click Edit Text

Edit the text to include your Title
If you're on Wix and already have an <h1> tag and you want to modify it, do the following:
Click the text box that is the page Title  

Click Edit Text
Click on Themes
You'll see a menu; click on Site Title

Customize the look of the Site Title theme using the options for colour, style, font, etc.  

Click Save Theme at the top of Text Settings.
Click Save from the pop-up window.
h1 on WordPress
On your WordPress based website and blog,  you can add and edit all your Headings right from the Post editor box. The Paragraph item on the menu bar will give you a dropdown box with all the Heading options.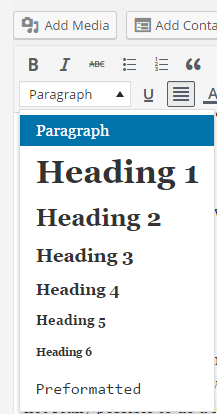 h1 tags on Squarespace
Certain templates on Squarespace add h1 tags to your pages and posts automatically, and due to this your site can have more than one of the same tags. This is simply because of the way those templates are set up. If you want to remove or modify any of them, you need to go to the developer platform. However, with some templates you will be able to edit your main header right within your editor.
So with Squarespace, we say it's not really possible to do a lot of heavy editing to your site if you have on of these templates, so if you are dead set on eliminating or editing your tags, we suggest the best way is to go to their Help community or get yourself a Squarespace specialist.
Keep in mind that Squarespace has said that while multiple h1 tags make some users nervous, they should rest assured that it will not have a negative effect on SEO if they are correctly used (that is, to highlight different sections on a Page or Post).
@jakebraught W/ HTML5 multiple <h1> tags is no longer bad for SEO, if that's what you mean. Check out this guide: http://t.co/uugbPrEUwr

— Squarespace Help (@SquarespaceHelp) September 19, 2014
Best practises
Don't stuff your heading tag with keywords – Google hates that. Incorporate them naturally.

Try to not use more than one h1 tag on a page, but as we said, in cases like with certain templates, where this is beyond your control, make sure they are there as titles and dividers to different sections and not just randomly interspersed within you page or post.

It won't kill you, but stay on the safe side by not making your <h1> tags the same as your page titles, aiming to vary the use of your focus keywords. Make them consistent with each other but not identical.

If the<h1> tag isn't used correctly, search engines

can and will use any available heading they find on your page, which means it will take the H2, H3, H4 , H5 or H6 tags as the page's title (and therefore also take it as a title that's representative of the whole page's content).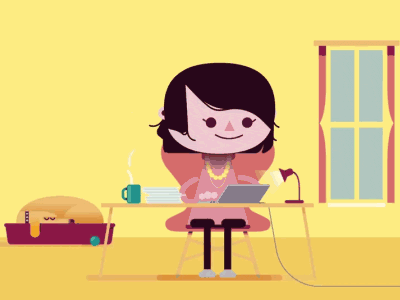 Image by Lolly UK
Want to see what you need to do to optimise your Headers? Login Now! (or signup for a FREE trial of marketgoo to try it!)