Hey you! It's wonderful that you picked this guide!
You may have heard that Search Engine Optimization (SEO) involves the use of keywords.
If you haven't, don't worry because you will learn everything you need to know in this guide.
So, the next step is learning what those keywords are and, if you're a marketgoo user, how you can use them successfully within our tool.
We'll start with explaining what keywords are and how they are used in SEO, then we'll move on to what to do when choosing your keywords, and finally, how to use keywords in marketgoo.
Let's start!
What Are Keywords in SEO?
A keyword is a word or a phrase that a user enters into a search engine's search field to find content they are interested in.
For example, if you enter "best bride dresses 2021" into Google, you are telling the search engine that you want to find lists of bride dresses that a curator deemed the best picks for 2021 weddings.
Now, think about any user who wants to find your services through Google or another search engine: what would a user enter into Google when they want to find your services?
The words and phrases you come up with when you answer this question will be your keywords.
Now, when you read SEO articles or receive instructions on how to improve SEO on your website, you may be asked: "What are your keywords?"
If you have answered the previous question well, you surely know how to answer this one!
In fact, answering that question means knowing your audience well.
It means understanding what a visitor or a customer may want to find on your website when they run a Google search, and having site pages that fully answer that visitor's question.
Because a keyword is nothing but a question a user asks Google, and site pages are the answers.
In SEO, A Keyword Is Much More Than a Word
When we say 'keyword' you might think of a single word, like 'banana'.
But as we mentioned previously, there are also key phrases. At times, entire sentences!
In the world of SEO, when we say 'keyword' we intend anything that a Google user types into in the search field, be that a single word or a group of words — or even, as we said, an entire sentence.
So, for example, if you run a Psychic Readings website, you could choose "psychic" as your target keyword, but you could also choose "accurate online psychic readings".
Know what? If you choose the second keyword, you will be more likely to get targeted visitors (i.e. the visitors  who are actively looking for products/services or information that you have in your site), because there are fewer search results for long keywords or key phrases. That means fewer competitors and perhaps not the big ones (like Amazon).
Long-tail keywords usually have a lower search volume (the number of times users search for that keyword in a month) — but that shouldn't worry you. Lower search volume may mean there are fewer people running that search, but those people usually have a very specific intent when they search and are tuned in to capture any good content that answers their question, and they might be your next customer.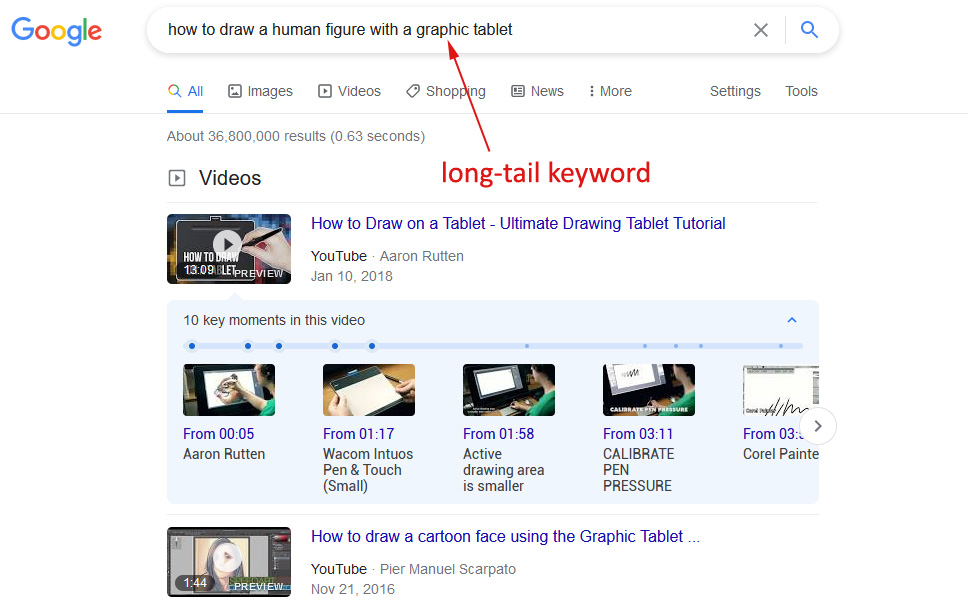 Short-tail keywords, on the other hand, are more generic terms that come with high search volumes (with few exceptions) and they're very hard to rank for because there's a lot of competition in the SERPs (Search Engine Result Pages).
In our example, "psychic" is a short-tail keyword.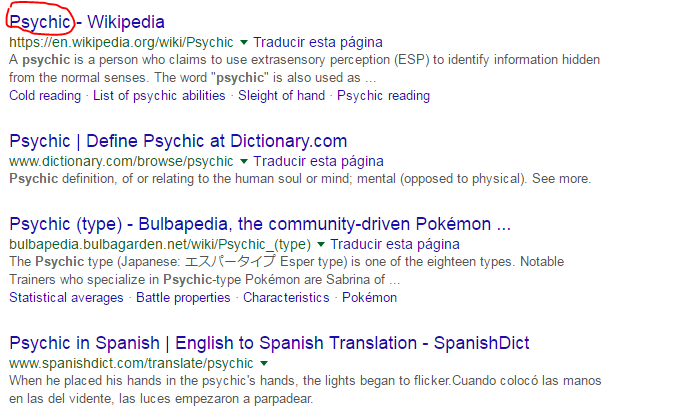 ---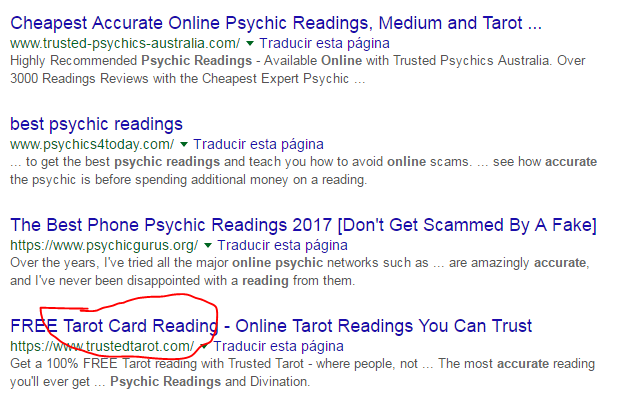 Then there are middle-tail keywords, that are more specific than short-tail keywords and they're easier to rank for, but they take some really exceptional content to do so, because there's still a lot of competition with the middle tail (i.e. millions of pages in the search results). A keyword like "best running shoes" is an example of a middle-tail keyword.
So there you have it: when you hear the word 'keyword',  don't limit yourself to a single word — there's a world of opportunities out there!
What to Do When You're Told to 'Pick Your Keywords'
You might feel like you still have a lot to learn about SEO, and that might be true, but don't let that discourage you.
You know something that no SEO book or guide will ever know: you know your customers and you know what they need.
And heck if you know how to do it better (or at least different) than your competitors!
So you see, you have a lot of know-how to start with. SEO will only complement it.
1. Find More Relevant Keywords
Now, you have certainly done the exercise proposed in the previous section (answering the questions about user searches). Let's start from your answers — that is, your keywords.
What you should do now is to plug those keywords (remember: it can be phrases, too!) into KeywordTool.io. This is a tool that will give you suggestions about other keywords related to yours that people are searching on Google.
Another similar tool you may want to use is AnswerThePublic, that will display a graph with each node being a related keyword.
See below for two screenshots of the tools used with the keyword "how to find a math tutor":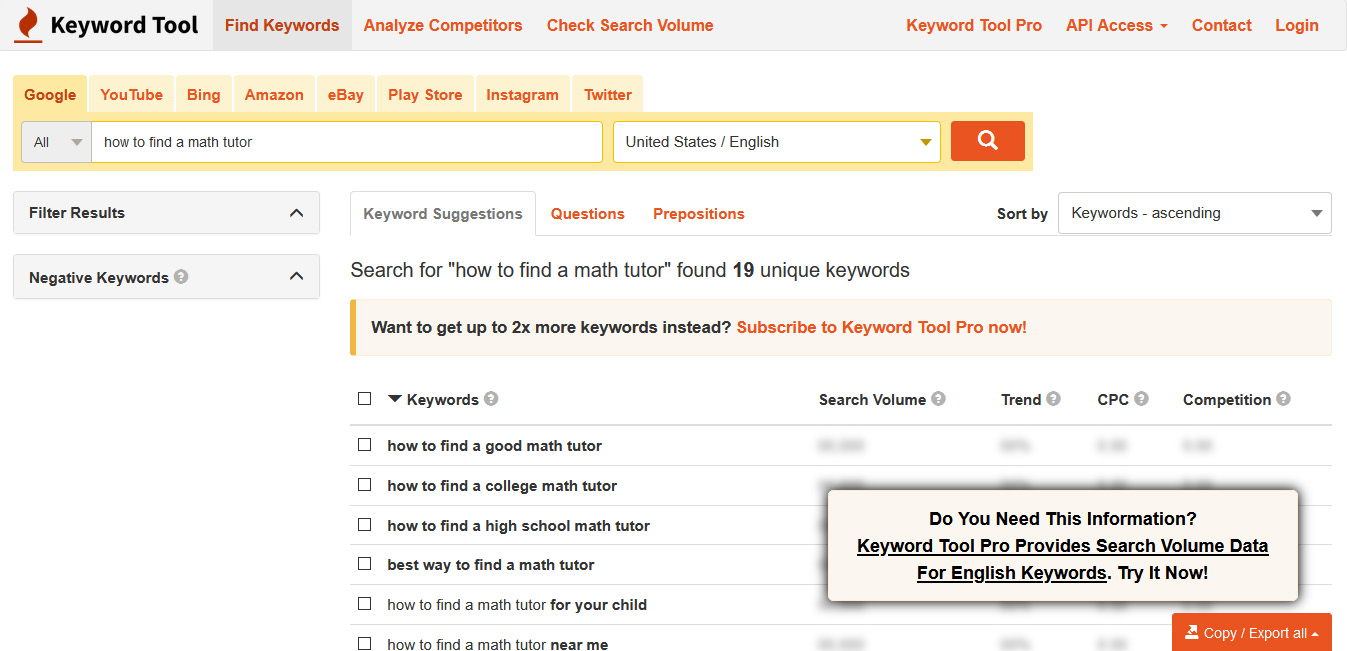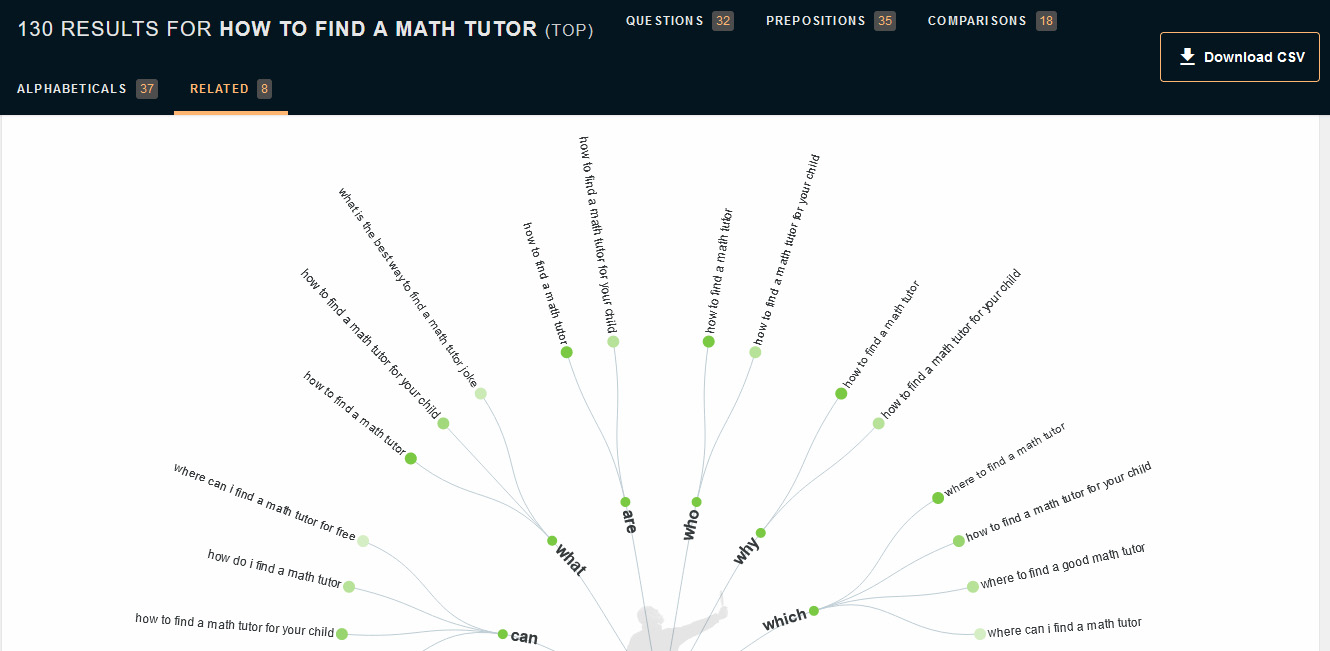 Some of these additional keywords may be relevant for your site, to include in your content or to create new pages about.
Whether your website has a blog or not, use your analytics software to see which pages/posts are attracting the most visits.
If you don't already use one, an analytics software is a software that analyzes the traffic coming to your website and returns useful statistics and reports for you to download so you can use them in your SEO strategy.
(Matomo and Google Analytics are examples of analytics software. Here and here are useful tutorials to start using them with your website.)
That will give you a clue of which topics and services are bringing people to your site.
We recommend observing the analytics of your site because, ultimately, keywords are topics, and you can come up with more keywords with this method.
Finally, you can check the search volume for these keywords (and the ones you thought of at the beginning of this post) on Google's Keyword Planner for Google Ads (you can activate it with a $1 spend) or the free Keyword Magic Tool by SEMrush.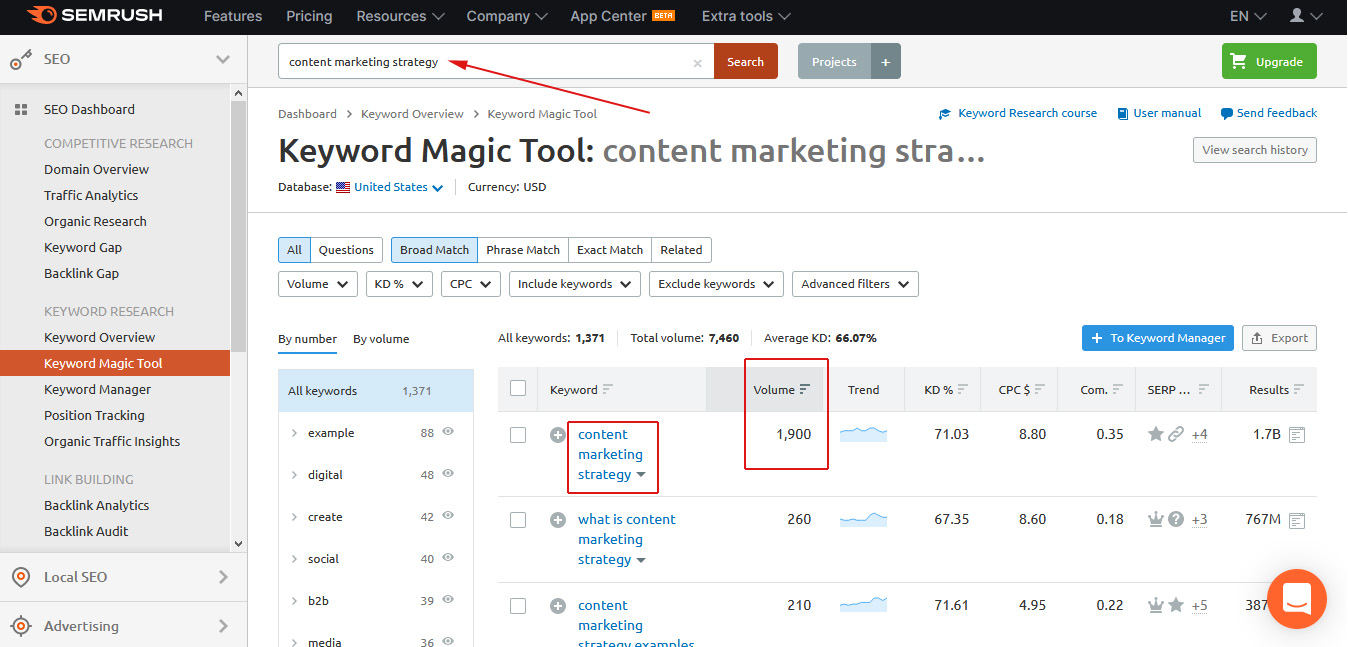 You can also do this in marketgoo: when you add keywords to the tool, you will also get their search volume.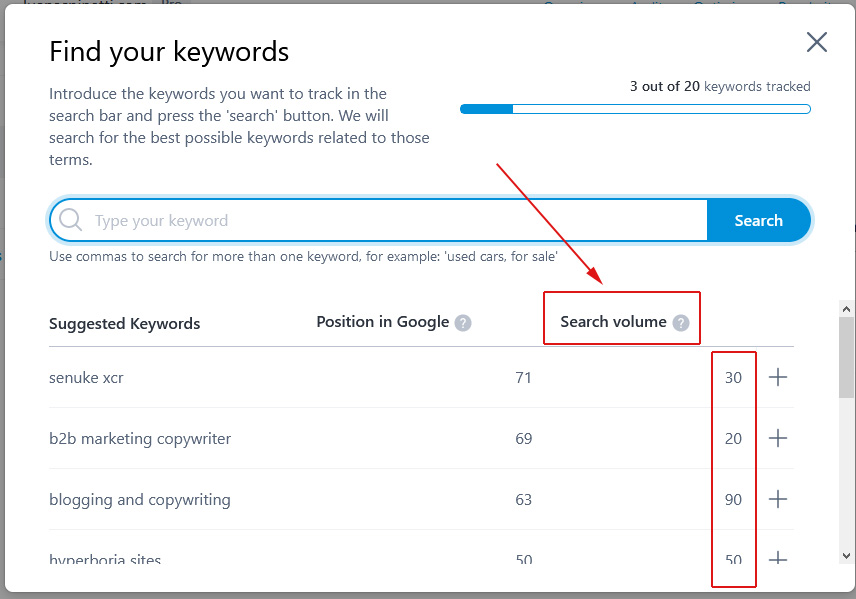 Another way marketgoo helps you with keywords is when you go to Optimize and add your site pages to improve: here you can select a keyword for each page (click "Select a keyword", add a keyword in the search field that appears and click the Search button) and marketgoo will tell you the level of competition for that keyword —  "Very Easy", "Easy", "Medium", or "Difficult":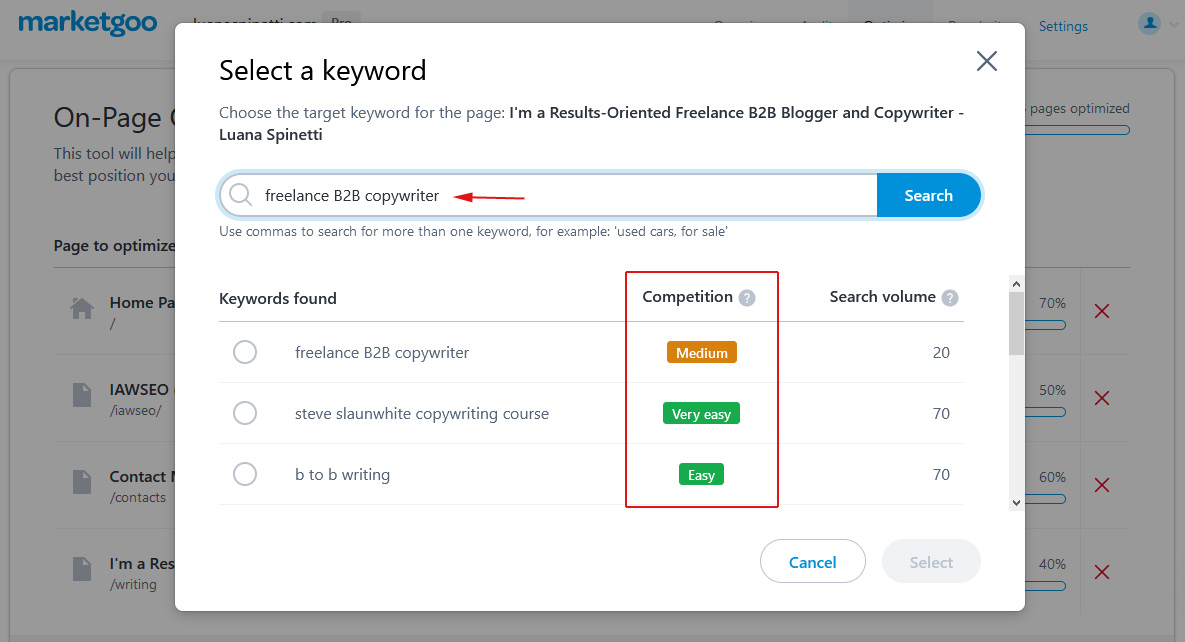 When you look up keywords in the above mentioned tools, you might be surprised that some of them return zero monthly searches.
Those are the keywords you will want to exclude from your optimization activity, because they will bring your site no visitors.
If all of this process looks foreign to you, don't worry: it will become second nature over time!
What you can do while you learn how to use keyword tools, is understand the value people see in your product/service and how you can best convey that value message through your website.
To do so, look at your competitors in the SERPs and see what they are doing right with their pages. That means, see how they use keywords in their pages.
When we say "take a look at your competitors' pages" in Google, we mean finding and reading the search results that appear before yours or in the first and second page of Google.
Finding competitor pages is easy:
Go to Google
Input the keyword/topic of your content or service page
Search and see the results in the first and second page of Google
Those results are your competitors (their pages)
What are they doing right? Which translates to: are they including the keyword in the content and covering it thoroughly, answering any potential visitor's question?
If they do, that's what you should do, too.
For example, let's say https://luanaspinetti.com/problog/low-cost-marketing-tools were a page of our site about low cost marketing tools (here used in the URL slug, too; i.e. the portion of the URL after the slash containing a name for the page).
We would look at https://neilpatel.com/blog/content-marketing-tools/ from competitor NeilPatel.com. If you read through it, you'll see they have a potential keyword in the URL slug ("content marketing tools") and then they cover content marketing tools in the page.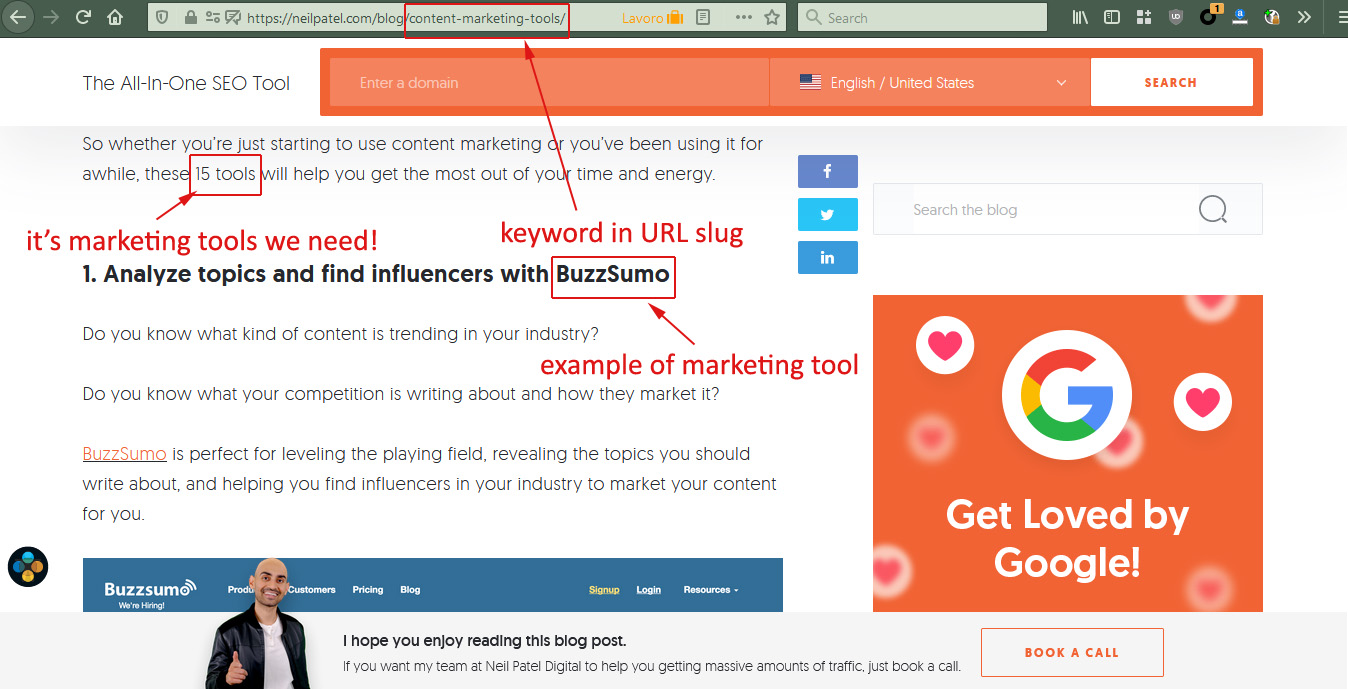 This topic is relevant to our page, too, so we might use "content marketing tools" in our page to add more opportunities to get search traffic thanks to this extra keyword we "stole" from our competitor's page.
Also, we see that Neil Patel is covering tools like Evernote and Canva, which are low cost tools and so they are relevant to our page. So, to amplify the value of our content, we might cover those, too.
Another method is to look at how you're describing what you do, what products/services you offer, why they're different, and why the visitor should trust you. This is what's called a value proposition. If you're in doubt on how to do this, look at this CXL guide on how to create a unique value proposition.
Your value proposition can give you an idea of what keywords you might use that make you stand out in the market. This is especially important when you are in a super competitive industry with companies that have a huge budget for SEO. In such cases, stay away from short-tail keywords because it will be very hard to rank for them.
Finally, if your website has enough traffic, you may want to install a livechat tool to ask visitors how they arrived on your site and why they chose it to answer their questions.
2. Localize Keywords
Often, a very easy and overlooked way to develop a keyphrase is simply to localize it.
You may have potential customers who are looking for services in their area, and executing what is called a location-based search.
For example, they might look for a party rental service in their area. The search will be "party rental service in center city, Philadelphia PA", rather than just "party rentals".
Going local with keywords means getting specific about your location, which makes sense because a very common user search is "[something] [location]" (like in our example below).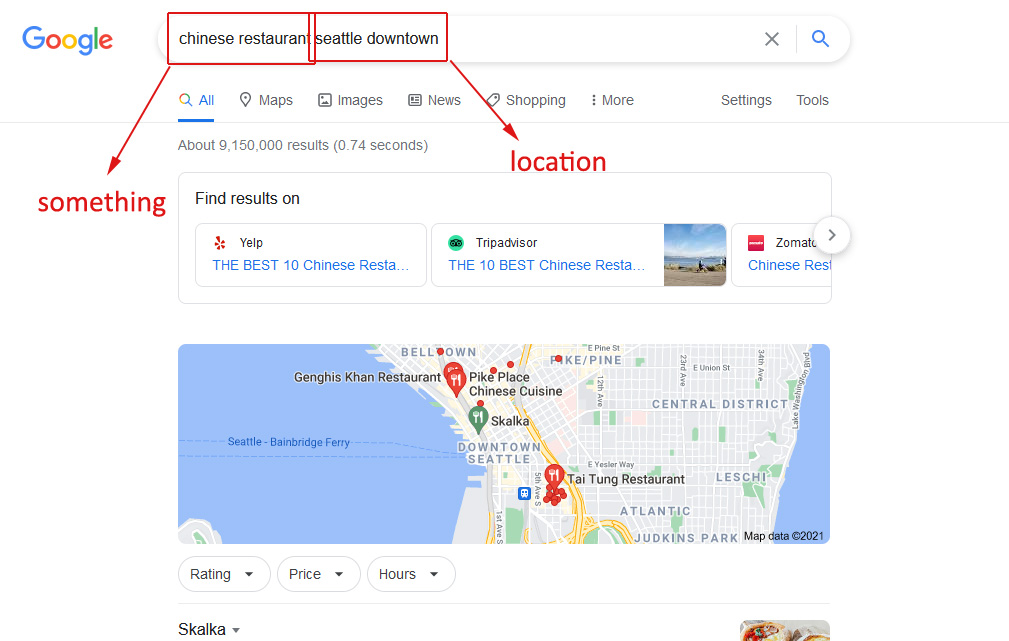 What do keywords look like in marketgoo?
In both marketgoo Lite and PRO you have a keyword tool included.
Just go to Settings → Tracked Keywords and do any of the following:
Click the "Find new keywords" button to find keywords (with search volume) you already rank for but that you haven't added yet (yes, marketgoo can find those little lost keywords, too!)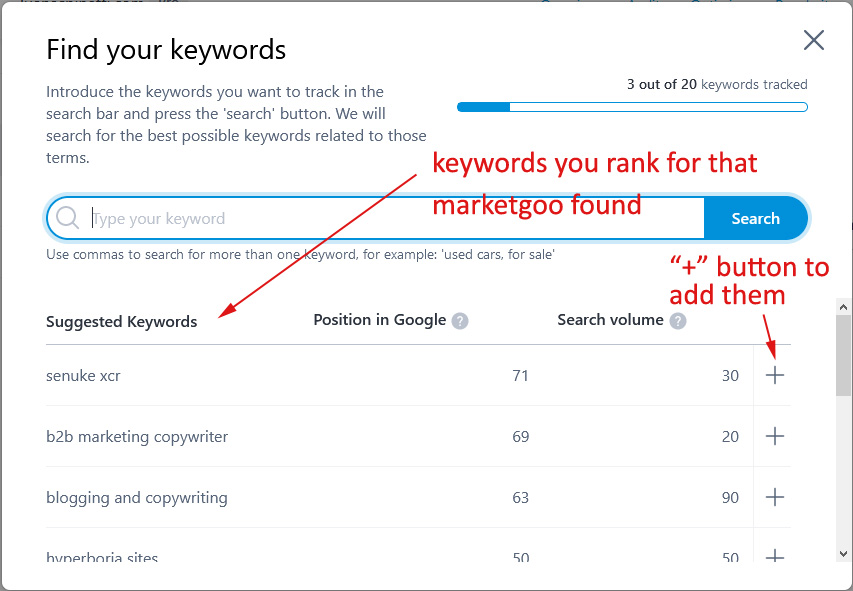 Type a keyword in the search field and click "Search". marketgoo will give you the level of competition and search volume.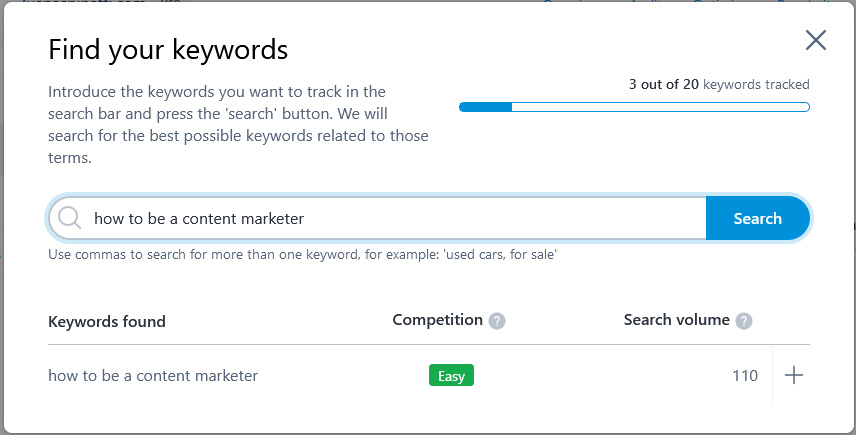 As we illustrated earlier in this guide, there are a lot of ways to come up with the right keywords for your website, but if you're still in doubt you can contact the Support team and they will help you find the most appropriate keywords for your pages.
"I optimised all the pages on my site, now what?"
You know what they say about learning?
That you're actually never done learning!
And that's so true, because there is so much out there just waiting for a curious person to learn more about.
Well, the same happens with SEO. You're never actually done optimizing, because a website is like a living being: always changing, always new content to be added and pages to be updated to better respond to users' needs.
And so, you're never really done with keyword research. Experimenting and changing things up is also an important part of your online strategy.
But we hope this guide could help you feel less scared and lost when it comes to doing it in practice.
As a bonus, watch our video below for more examples on how to brainstorm keywords for your website.
Remember that our Support team is always available if you're a marketgoo PRO user.
P.S. If you're on fire and want even more ways to brainstorm keywords for your site's content and blog posts, check out this guide.