What's New in marketgoo: A Look at Our Latest Updates
We've been brewing some updates in the marketgoo lab, and we're thrilled to finally spill the beans on some updates designed to make your customer's SEO journeys smoother than ever.

Let's dive in!
1. Email Alerts for High-Importance Issues
To ensure our users stay on top of any issues that could potentially harm their site's visibility in search engine results, we've introduced an email alert system.

These alerts are triggered by high-importance issues such as:
Inaccessibility of the homepage or blocked scans
Increase in 404 or 500 errors
Unavailability of Robots.txt or Sitemap files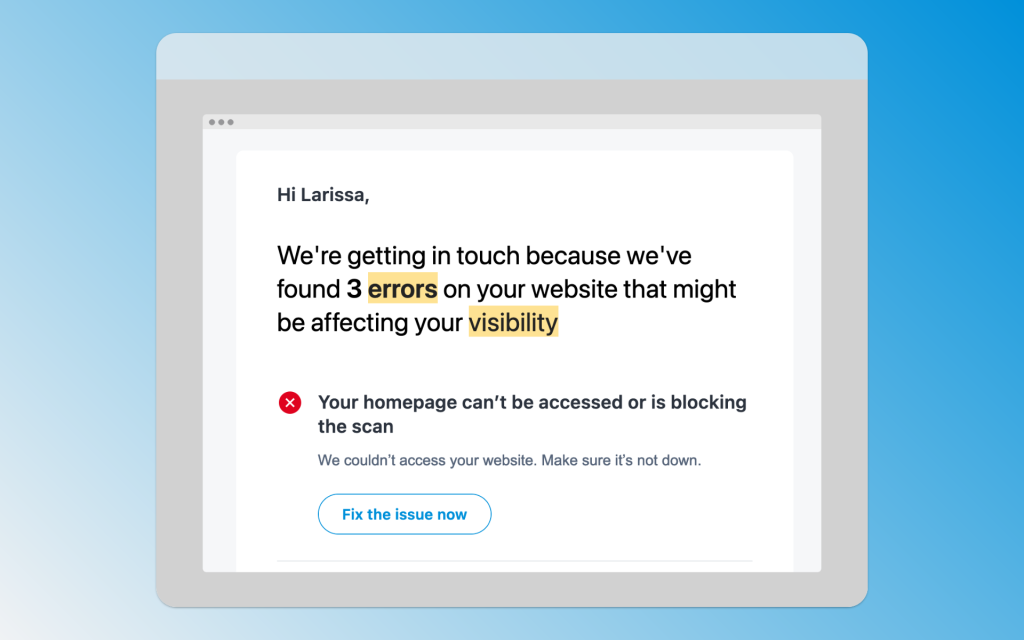 These alerts are designed to prevent the flooding of your inbox, as we send a maximum of one email per day, grouping all detected errors.

An alert for a specific error will only be sent once, and won't be reissued until the problem is resolved.

For those who wish to opt-out, there will be an option to deactivate these email alerts.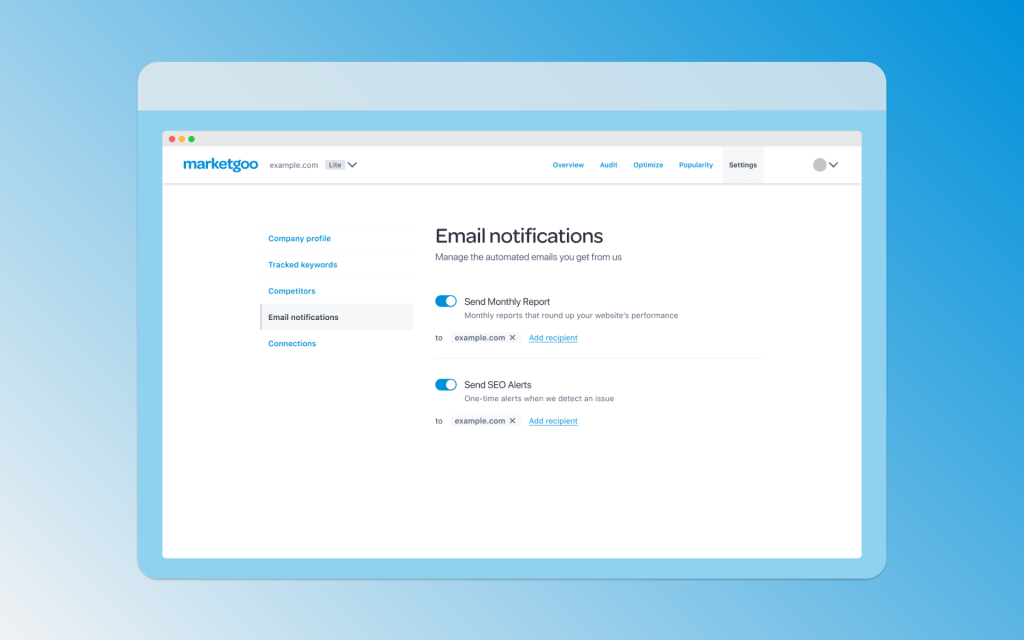 This has rolled out for the Web App plans that have configured their site on marketgoo. 
2. Image Alt-tag Task Update
Search engines rely on alt attributes to recognize the content of images because search engine crawlers are typically unable to "read" image files.

Alt attributes are also beneficial for users, particularly those with visual impairments.

The image alt tag (or "alt attribute") task in marketgoo will now detect all alt images on the scanned pages and checks for descriptive text.
Previously, the task was limited to alt tags in linked images (inside an <a> element).

To complete the task in marketgoo, the alt tag should meet the following criteria:
The image tag contains the 'alt' attribute
It is at least 3 characters long
It is not a filename
This is rolling out in both the web app and the plugin. 
3. Analyze Section Revamp
One of the bigger changes that we have implemented this year. We've worked on revamping the entire Analyze section of our product, updating the keyword section, and removing content blocks that are no longer necessary.
The changes include:
Removal of the tracked keywords block in the following sections: Settings, Backlinks and Keywords in the home page.
Replacement of old design components with new ones from our Ola library
New functionalities to add and delete keywords
Modification of the home footer to include new CTAs to encourage use of competitor and keywords features.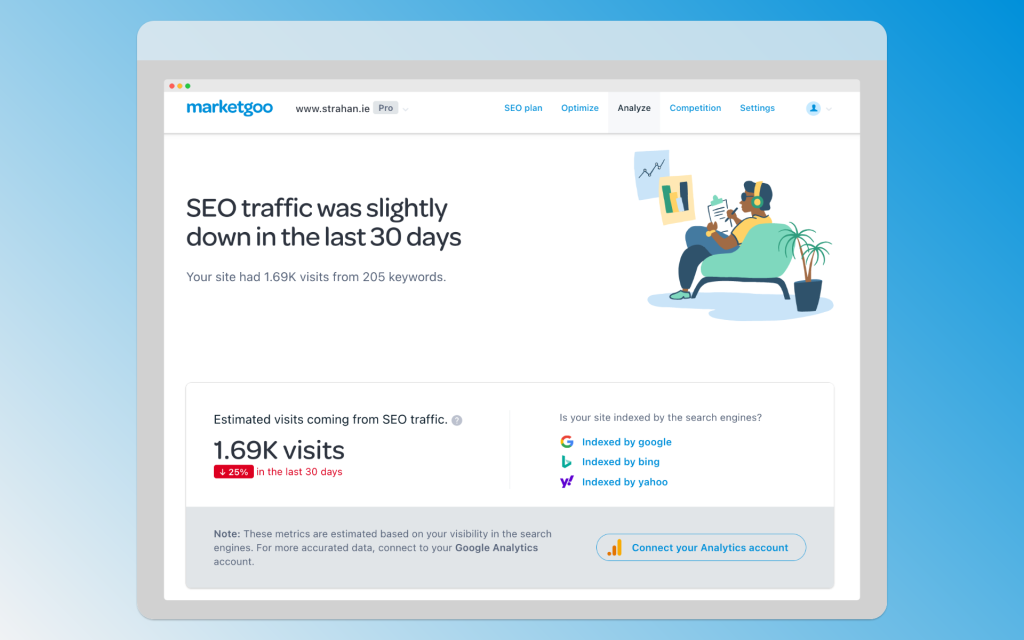 Please note that the flow to add or remove a keyword remains the same. 

This update has rolled out for the web app. 
4. Transition to Google Analytics 4
In response to Google sunsetting Universal Analytics on July 1st, 2023, we have notified users that they need to link their GA4 properties to keep getting that data within their SEO tool.
All your customers who have linked Google Analytics to marketgoo will have received instructions on how to disconnect their Universal Analytics property so that the new GA4 property can be linked.

5. Deactivation of SEO Score Message
We have deactivated a message alerting users about an SEO score update. Users who hadn't logged in to the app since the Score calculation was updated were the target of this message.
The alert had been in place for two years and we've removed it as part of our commitment to keeping our messaging and user interfaces up-to-date and relevant.
This has rolled out for the web app.

We trust that these updates will enhance the user experience and make the SEO journey with marketgoo even more rewarding.
Finally, we'd like to let you know that we're re-launching our Partner Newsletter. Get on the list!
If you have any questions or concerns regarding these updates, please reach out to us at support [ @ ] marketgoo.com, or to your usual Partner contacts at marketgoo who are ready to assist.
We look forward to serving you better with every update!