In the past month we've focused on improving our WordPress product experience and finalizing overall improvements across our App and internal operations.
The latest WordPress Production Release 1.4.3 is live, which includes the AI meta tags generator, an updated translation system, and various fixes.
AI meta tags generator
Meta tags play an important role in on-page SEO by summarizing a webpage's content in search results and therefore influencing click through rates. However, writing effective meta descriptions can be difficult and time-consuming.
Last month, we shared AI-driven meta tags generated in our web app, and now we've rolled them out for WordPress sites as well!
Who it's for: WordPress Pro users
Where it appears: The feature is included in the post/page editor tasks that refer to titles and meta descriptions.
Users on our WordPress Free plans will see the feature button, but an upgrade modal will be shown when clicking on it.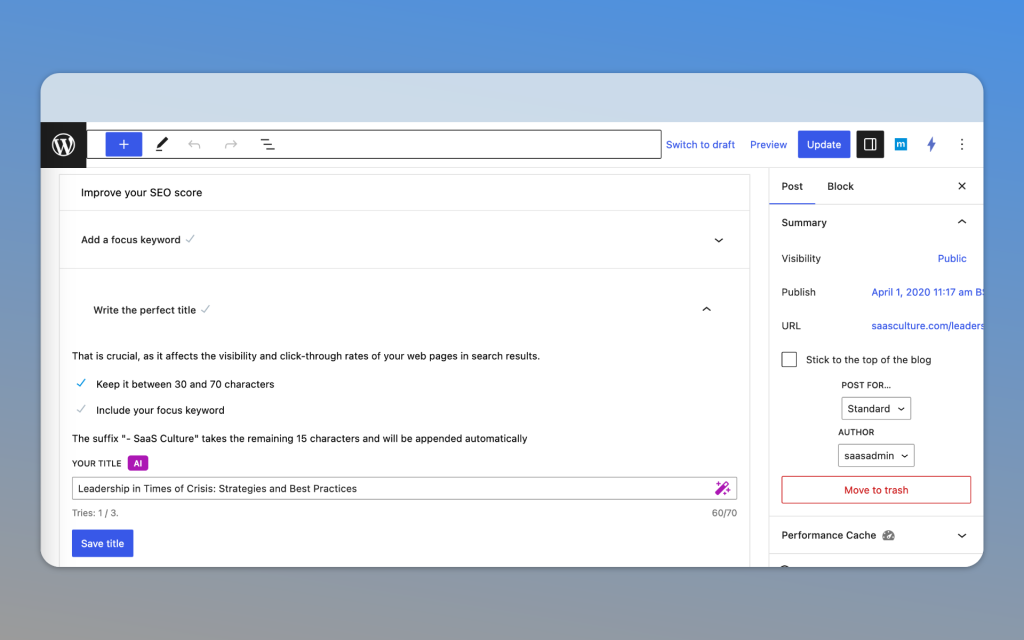 Focus Keyword Improvements
Previously, it was not possible to remove a focus keyword once it was added to a post or page. We know users often remove or undo actions on their site and wanted to ensure they had that flexibility.
Who it's for: WordPress users on Free or Pro plans
Where it appears: in the Focus Keyword task in the post/page editor.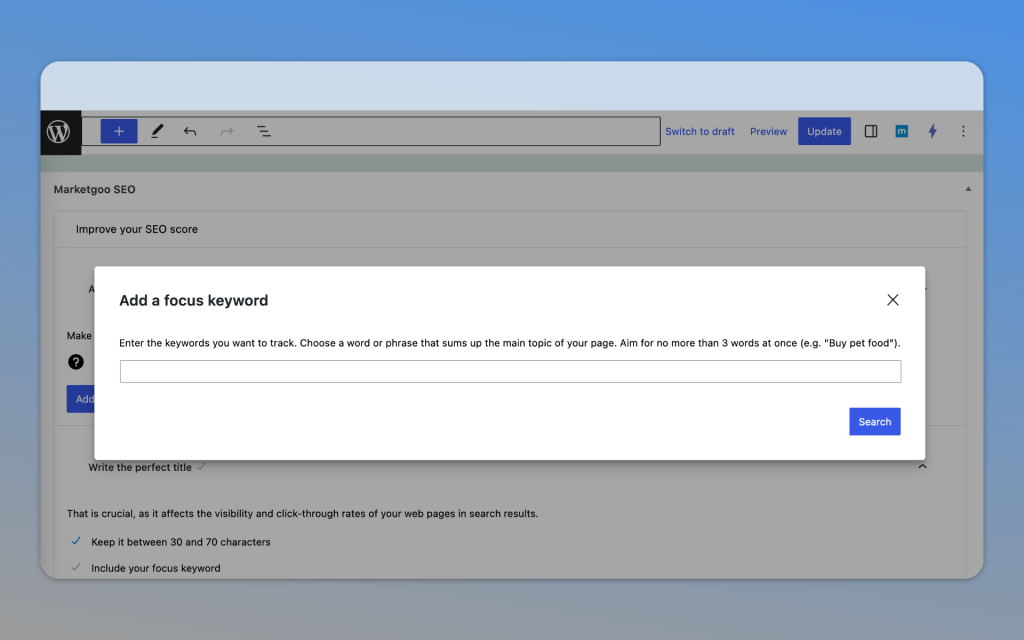 Emailing Website Reports
Many of our Partners generate leads by offering a free website report of their site, powered by marketgoo.
Offering these leads a copy of their report provides them with a tangible record of their website's analysis, enabling them to revisit the insights at their convenience.
It also serves as a visual representation of the value provided by SEO tools or Do-it-for-Me SEO services.
Who it's for: Partners who offer a Free Website Report on their sites. 
Where it appears: upon generation of the report, an email is sent directly to the prospect that requested it, including a link to download the report in PDF format.
The details: you can now enable this email with your own preferred copies and CTAs.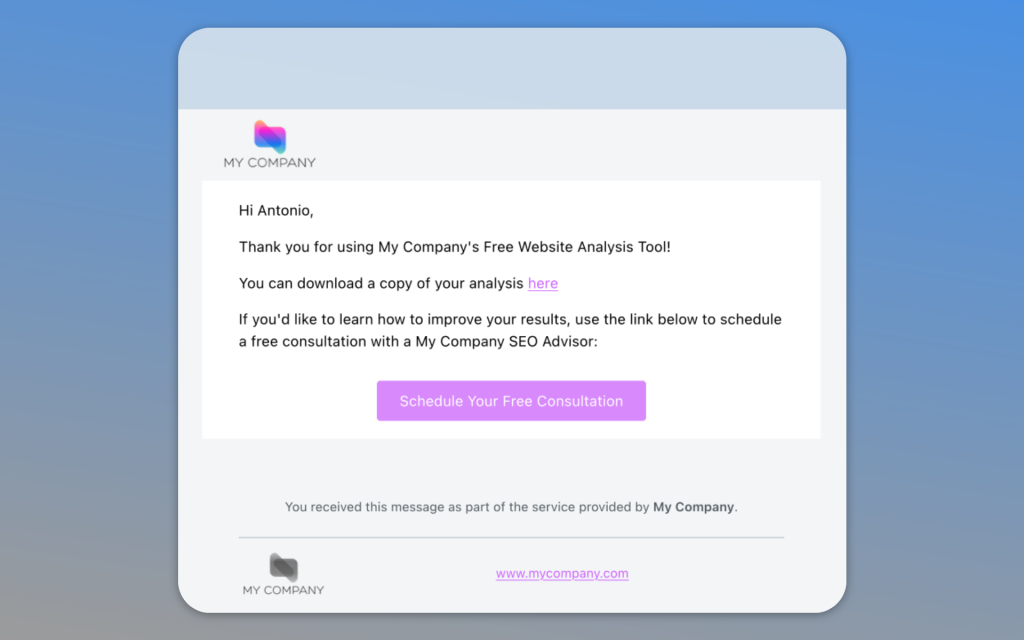 Homepage Scans
Our app is sometimes unable to scan websites because of an inaccessible homepage. This is an issue because if the home is not accessible, visitors can't navigate the website and robots can't crawl the site.
Previously, this returned a generic error message and the end user had no insight as to what caused it.
Who it's for: marketgoo Lite and Pro web app users
Where it appears: it appears as a critical task in the web app's Audit your Site section, and contains details on what type of error was detected. It will also appear as part of our email alerts, right in the user's inbox.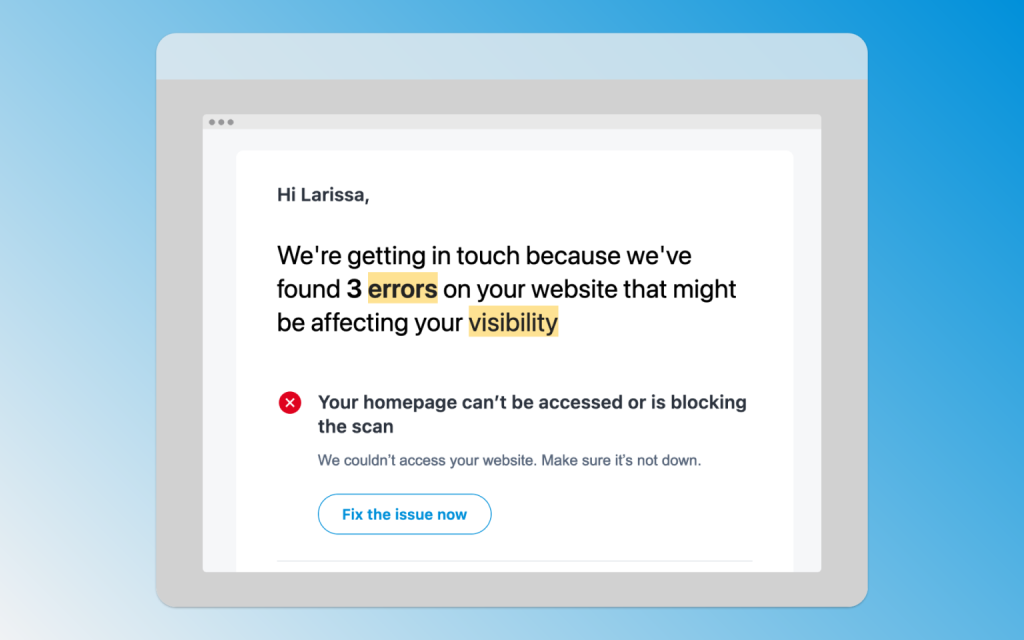 ..and some more:
Admin Panel: our Partners need to manage their customers' SEO tool plans and get insights on them, in a simple and practical way that accounts for multiple brands and sub-brands. This is what our Partner Admin Panel is for! We are continuously updating it and also have updated user manuals. If you want to get the most out of the Admin Panel, don't hesitate to contact us. 
---
Want to receive this update in your inbox? Subscribe to our newsletter below!